With the holiday season just around the corner, tech geeks are waiting to get their hands on the latest smartphones in the market.
The year 2012 has been a thriving period for gadget makers especially in the smartphone and tablet segment. Several products rolled out to the market while some lost their charm. Now is the time when gizmo lovers are on the hunt for the best smartphones and for many the season does not come to an end unless they wrap one for those close at heart. As part of the overture to this vacation, tech giants are coming up with several smartphones and other devices.
Here we look at the top five smartphones that make for an ideal buy this season:
Apple iPhone 5
Tech titan Apple sensationalized the market with its latest and much- talked about iPhone 5. Although there were previous iterations from the company, the launch of iPhone 5 was well received. The Cupertino based firm flaunted the device with a big screen and high-speed processor. iPhone is considered as the one of the highest quality smartphones in the market. The device hit a remarkable sales figure within a short span of its release.
The smartphone houses the same aluminum casing and looks quite the same as its predecessors. One notable improvement is the thickness aspect, which Apple has trimmed down to 7.6mm and scrapped the weight to 112g, which is 20 percent lighter than iPhone 4S. iPhone 5 comes with an improved battery that gives 225 hours of standby time as compared to 200 hours of standby in iPhone 4S. The device also features a bigger 4-inch screen, giving room for a fifth row of apps. The camera on the front is a 1.2-megapixel version, a step up from the basic VGA camera in the iPhone 4S. The device also features iOS 6, a smarter Siri, and quad-core A6 chip, which gives double the CPU and graphics performance. iPhone 5 has over 200 new features and includes the news Maps App with turn-by-turn navigation, Facebook integration and Passbook organization.
Samsung Galaxy Note II
Samsung Galaxy Note II, which is the second in line to the Note series, got rave reviews as a data centric device which bridges the gap between a tablet and smartphone. Although the device is priced quite high, it comes handy for many users seeking multiple features.
Galaxy Note II sports a 5.55 inch HD Super AMOLED S-Stripe RGB screen with 1280×720 resolution and is powered by a 1.6 GHz quad-core Exynos CPU. It comes equipped with 2 GB RAM, an 8-megapixel rear camera, a 1.9-megapixel front camera, and a 3,100 mAh battery. It is slightly thinner than its predecessor at 9.4 mm and heavier by 2 grams. The smartphone's pressure-sensitive S Pen stylus features Air View, which allows a user to preview content by hovering the pen over the screen, and Quick Command that reveals a list of available commands at the swipe of the S Pen.
Samsung Galaxy S III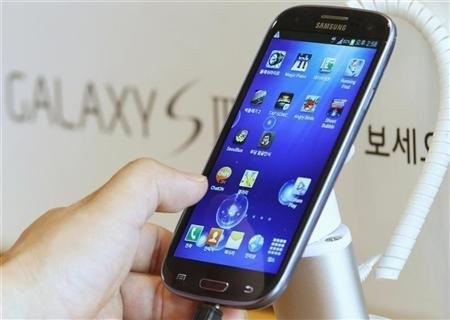 Samsung Galaxy S III is a multi-touch, slate-format smartphone which set a bench mark in the market. It packs several additional features from its predecessor
Galaxy S III features a 4.8-inch Super AMOLED display screen and runs on Android 4.0 Ice cream Sandwich.The device comes preloaded with applications such as YouTube, Google+, Voice Search, Google Play, Gmail, Map, and Calendar, in addition to Samsung-specific apps such as ChatON, Game Hub, Video Hub, Social Hub and Navigation.
HTC 8X
This Windows 8 smartphone sports a 4.3-inch Super LCD 2 with 720x1280 pixel resolution display. It houses an 8-megapixel rear camera with auto focus and LED flash, and a 2.1-megapixel front-facing camera. The device packs 16GB on-board memory and Beats Audio system with an additional amp on the headphone jack to give users an improved audio experience.
Nokia Lumia 920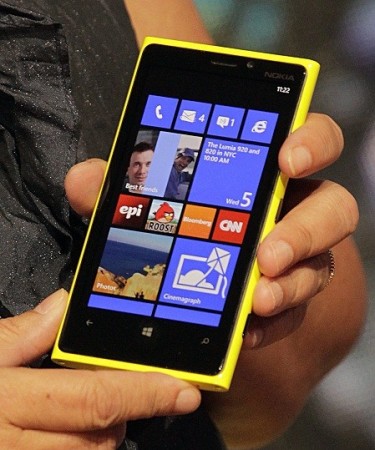 Nokia Lumia 920 smartphone runs on Windows Phone 8 operating system and is powered by a 1.5 GHz dual-core Qualcomm Krait and a Qualcomm Adreno 225 GPU. It sports a 4.5-inch IPS TFT LCD display which is edged by curved Gorilla Glass. The device supports inductive charging compatible with Qi Inductive Charging and houses 1GB of RAM along with an internal storage capacity of 32GB. On the connectivity front, the device supports 4G network LTE, Wi-Fi 802.11 a/b/g/n, dual-band, DLNA, WIF hotspot, Bluetooth 4.0 and USB v2.0