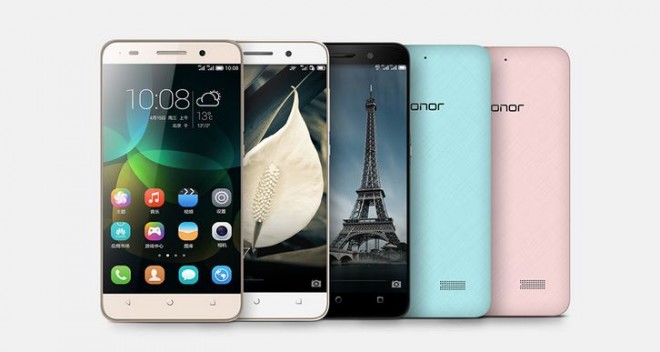 If you are looking for newly-released smartphones to buy, the competition is intense. Every smartphone manufacturer is taking their best shot at offering great value for their handsets. The race in the budget smartphone category is fierce as new and old companies are battling their way to the top. India-based smartphone maker Micromax released two new handsets this month, while Huawei and Coolpad joined the race with their respective entries.
Here are the top 5 budget smartphones released in May 2015 that are not just great on specs, but also feel light on pocket.
Huawei Honor Bee (₹4,999)
Huawei is jumping up its efforts in the budget smartphone space in India with a series of new Honor models. Honor Bee, which was released earlier this month, comes with sizable specs and an attractive price point. The handset boasts a 4.5-inch FWVGA display and is powered by a 1.2GHz Spreadtrum quad-core processor. There's 1GB RAM and 8GB expandable memory onboard along with a 1,750mAh battery taking charge of the power.
Huawei Honor Bee offers an impressive 8-megapixel rear facing camera with dual-LED flash and a 2MP front snapper. It lacks 4G LTE, but comes with 3G support and has room for dual SIM cards.
Huawei Honor Bee is competitively priced at ₹4,999, challenging most offerings in the similar price range. Buyers can purchase the handset only via Flipkart online retail site in India.
Micromax Unite 3 (₹6,399)
Micromax launched its latest Android 5.0 Lollipop powered Unite 3 handset in India to compete with growing Chinese rivals. The handset comes with a 4.7-inch WVGA display, 1.3GHz Mediatek quad-core processor, 1GB RAM and 8GB expandable storage. The camera comes with an 8MP sensor on the rear side with LED flash and a 2MP sensor on the front, just like the Huawei Honor Bee.
It lacks support for 4G LTE, but has 3G that is of more use for budget smartphone shoppers as 4G deployment is still in the initial stage in India. Micromax has a 2,000mAh battery that promises up to 8 hours of talk time and comes with dual SIM card support.
Unlike other handsets, Micromax Unite 3 is widely available across online and offline stores, but Infibeam has the best offer, selling it for ₹6,399.
Coolpad Dazen 1 – (₹6,999)
Coolpad has followed the lead of other Chinese tech giants such as Lenovo, Xiaomi, Meizu, Oppo and others to find a place in the Indian smartphone market. By the looks of it, Coolpad is making an appealing stand. The newly-launched Coolpad Dazen 1 throws a good competition to other rivals in the market. Firstly, the handset runs on a 64-bit Qualcomm Snapdragon 410 quad-core processor and has 2GB RAM along with 8GB expandable storage. The 5-inch display gets treated with 720p resolution for better clarity.
The Dazen 1 also offers an 8MP rear facing camera with LED flash and an impressive 5MP front snapper. A 2,500mAh battery will make sure the phone runs through the day with mixed usage. Like its competitors, Dazen has dual SIM slots and supports high-speed 4G LTE bandwidths.
Available in Moondust Grey and Baby Snow White colours, Coolpad Dazen 1 is available exclusively via Snapdeal for ₹6,999.
Huawei Honor 4C (₹8,999)
With yet another Honor model, Huawei rules the under-₹10K bracket. The all-new Honor 4C is a much upgraded version of its accompanying model released this month. The Honor 4C is powered by a 1.2GHz Hisilicon Kirin 620 octa-core processor, 2GB RAM and 8GB expandable storage. There is a 5-inch display with 720p resolution and gets treated with a massive 2,550mAh battery.
Coming to the camera, there's a 13-megapixel rear facing snapper with LED flash and a 5MP front facing camera. Unlike Honor Bee, Honor 4C supports 4G LTE bandwidths and comes with dual SIM support.
Even so, Huawei Honor 4C is not overpriced at ₹8,999. The handset is exclusively sold via Flipkart.
Micromax Canvas Doodle 4 (₹9,499)
Micromax's Canvas Doodle 4 made its appearance earlier this week with all specs and pricing details, but was officially released on 30 May. The 6-inch handset gets a 720p treatment with Android 5.0 Lollipop OS out of the box. It is powered by a 1.3GHz quad-core CPU paired with 1GB RAM and 8GB expandable storage. The camera comes with an 8MP sensor and LED flash on the rear, while the front side of the handset has a 2MP snapper.
The phablet-sized smartphone gets a massive battery, measuring up to 3,000mAh and the price is set for ₹9,499. Currently, eBay has listed the Canvas Doodle 4 on its site for ₹9,199.