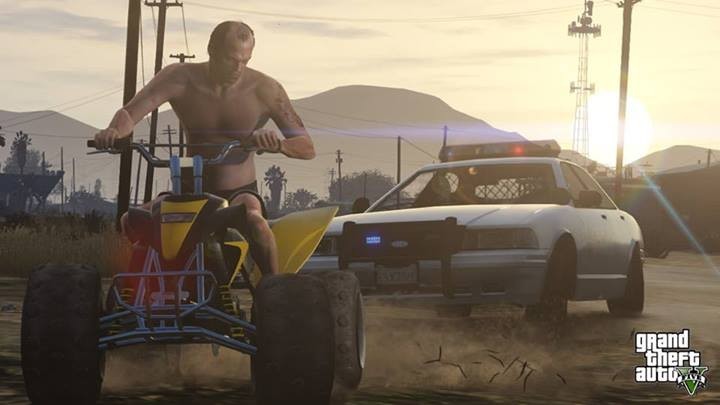 Many games that are eagerly awaited by the people are expected to release in 2015. As new games that get released on consoles have exclusive features, PC versions too have their own exclusives. Everyone among the gamers will get something or the other.
Players can expect lot of games for PC in the year 2015 and it will all be packed with fun and excitement.
Below are some of the top 5 PC games that players can see in 2015:
1. GTA 5
PC gamers will finally be able to play Rockstar's blockbuster action game, where players will be able to play as three characters and even shift between each other, travelling to Los Santos. The game will have heists and GTA Online modes too.
Previous GTA games have been heavily modded by the community making the game fun and better than it's original.
Though initially the company had said that it will be releasing the PC version of GTA 5 along with console versions, was delayed due to more development time to polish it and due to issues in the GTA Online. It will now be released on 27 January 2015.
(YouTube Courtesy: Rockstar Games)
2. No Man's Sky
This adventure game is scheduled for release in 2015 and will bring developer Hello Games' procedurally generated game that puts players in the shoes of an Astronaut tasked with planet exploration.
Players will not only interact with the flora and fauna, but must also fight for their survival and must fight the enemies too.
The game has an open universe where players can go anywhere they want from one planet to another. It has unique creatures, plants, spaceships and geological formation. Players might face threat from anywhere in the game. It will also allow players to sell the materials that they have collected and trade them for spacecraft and equipment.
(YouTube Courtesy: HelloGamesTube)
3. Evolve
Developers Turtle Rock Studios have created this next generation multiplayer shooter that offers 4v1 combination where one player as a Monster will be facing four players who will be Hunters.
If players chose to play as the Monster they will have at their disposal the savage abilities and an animalistic sense to rip humans apart but if players choose to play as Hunters, they can make their choice from the four Hunter classes (Assault, Trapper, Medic and Support).
The game is set on planet Shear, which is not a good place for both Monsters and Humans. When players level up, they will unlock new characters and upgrades.
Evolve will be rolling out on 10 February 2015.
(YouTube Courtesy: HelloGamesTube)
4. Star Wars: Battlefront
For a Star Wars fan, nothing can get better than to get to play the new Star Wars: Battlefront that is being developed by EA DICE for the 2015 Holiday.
This action game will have both single and multiplayer mode. There is not much information on the game apart from the fact that the developer is using the Frostbite 3 engine.
(YouTube Courtesy: EAStarWars)
5. The Witcher 3: Wild Hunt
One of the most anticipated games on 2015 is developer CD Projekt RED'S The Witcher 3: Wild Hunt, the action RPG gaming title.
This will be the third main game in the game series. The game continues from the second main The Witcher game. The game's protagonist is Geralt who makes journey as the world around him is changing. He also has to take on many new missions and he is the only Witcher who can stop the cataclysmic rampage. The game will have swordfighter with mythical powers, Ciri as a playable character in the game.
The Witcher 3: Wild Hunt will be released on 19 May 2015.
(YouTube Courtesy: The Witcher)