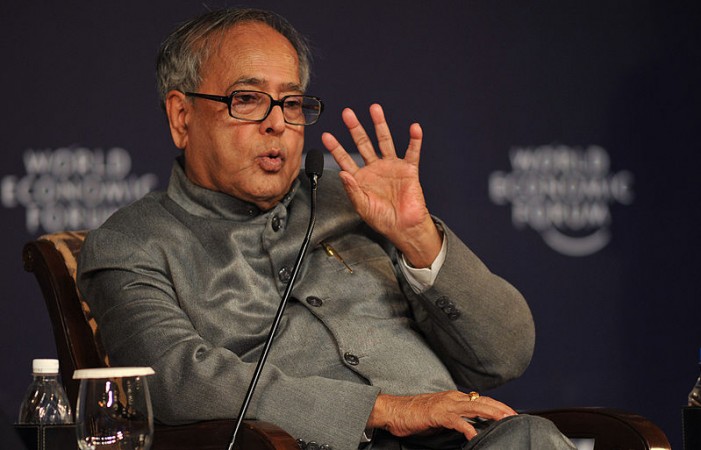 President Pranab Mukherjee touched on a range of issues - economic, political and societal - during the joint sitting in the Parliament on Monday, calling for an end of poverty and corruption, assuring infrastructure and nuclear development, promising to contain food inflation, and ensuring safety of women and abolition of poverty.
Among the several significant points raised in the president's address, these ten topics seemed extremely relevant, as gauged by discussions on social media and top news stories:
Modi mandate - The Namo agenda stood out prominently in Mukherjee's address, including the prime minister's call for 'minimum government, maximum governance' as well as his focus on cleaning up river Ganga.
Twitter and new channels were abuzz with how the Modi agenda played heavily in the president's address on Monday, with Mukherjee echoing several of Modi's mandates, including his stance on bringing back black money and the rehabilitation of Kashmiri pandits.
Poverty woes addressed – Mukherjee envisioned that half of the country's billion plus population will soon reside in urban areas. In his address, Mukherjee said that by 2022, every family will live in a pucca house with water and power facilities, reported IndiaToday.
Safety of women – In a nation riddled with sexual assaults on its women, Mukherjee's emphasis on women's safety was pertinent. He promised a zero tolerance approach by the government towards violence against women, promised 33 percent reservation for women in the Parliament and legislative assemblies, and announced the launch of a national campaign to save the girl child.
Infrastructure building and economic growth– From promising world-class investment destinations, moving towards a single-window system of clearance for projects, and describing infrastructure projects such as the "Diamond Quadrilateral Project" of high-speed rails, the president gave an encouraging overview of the government's approach to infrastructure development.
Mukherjee said his government would operationalize international nuclear agreements and develop nuclear power projects.
"Putting the economy back on track is paramount to my government," Mukherjee explained. He also spoke about the government's inclination in reigning in inflation, accelerating job creation, and resuscitating the investment cycle.
Foreign investment – President Mukherjee once again invoked Modi's agenda to bring more foreign funds to Indian shores, by stating that the government will liberalise FDI in defence as well as in research and innovation.
· Food inflation crisis – The late monsoon has been a cause of worry for the economy and understandably, food inflation was one of the top priorities in the president's address. As per his speech, the government will take steps to prevent hoarding and black-marketing and reform the public distribution system, while also boosting investment in agriculture. "Steps will be taken to convert farming into a profitable venture," Mukherjee said, while highlighting the trend of farmer suicides.
· "Each drop of water is precious" – Water security stood high on the government's priority, Mukherjee assured. He spoke of optimum use of water through harnessing of rain water, interlinking of rivers and micro-irrigation.
Boost to education, sports, youth development – "My government will transition from Youth Developmentto Youth-led Development," said Mukherjee. He exhorted the need to nurture the country's youth, and promised setting up IIMs and IITs in every state, formulating a National Education Policy and launching a national e-library.
He also stated that the government would set up a National Sports Talent Search System, and will popularize sports by including it in school curriculum.
New Health policy – Mukherjee said his government would formulate a new health policy and set a National Health Assurance Mission. Some of the eye-catching takeaways from his points about the health sector were the promotion of Yoga and setting up of AIIMS-like institutions in every state.
Minorities and SC/STs –Mukherjee promised that the government would take steps to empower the weaker sections of society. He described electrification of tribal hamlets and road connectivity. Expressing concern over the state of minority communities, the President said the government will improve modern and technical education for them and announced that it will initiate a National Madrasa ModernizationProgramme.