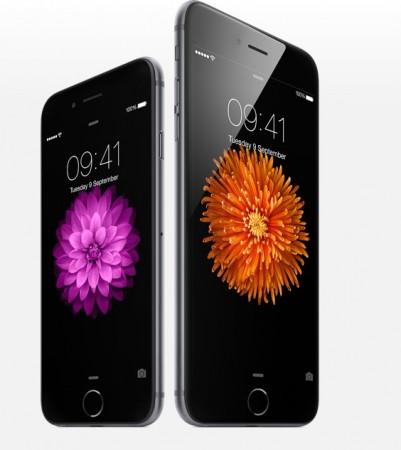 Smartphones have become an extremely important part of our daily lives. With major brands like Apple and Samsung releasing new flagships every year, some new startups have also made the headlines for their exceptional performance in this category. As we near the end of this year, here's a quick look at the most popular smartphones of 2014 that refused to get off the headlines.
Apple iPhone 6
Apple's 2014 flagship, iPhone 6 may have made a late entry but it quickly became the most popular handset of the year. Even before the iPhone 6 was released in September, there were rumors and leaks speculating the product's design and features. When it was officially released, the curiosity shot through the roof as shoppers rushed to the stores to get their pick.
Apple's fourth quarter earnings revealed a massive $8.5 billion net profit and quarterly revenue of $42.1 billion. Apple recorded the biggest iPhone launch ever with its iPhone 6 and iPhone 6 Plus this year. The biggest change in the new iPhones was the screen size, which bumped up from standard 4-inch to 4.7-inch in iPhone 6 and 5.5-inch in the 6 Plus.
Xiaomi Mi3
Xiaomi has earned a respectable position in the Indian market. The company's current flagship is hard to get through its flash sales but is worthy of every penny spent. Xiaomi's biggest strategy is its reasonable pricing to reach more consumers and it has helped the Chinese firm to rank third in the global race after Samsung and Apple. The company is yet to start global sales and is currently available in China and India. Xiaomi has the potential to outpace the dominance of Samsung and Apple in emerging markets.
Xioami Mi3 is the company's latest flagship available in India exclusively through Flipkart. The smartphone went out of stock on Flipkart in a matter of seconds. The company revealed it had sold over 300,000 Mi Phones in India in just two months of launch, which is impressive as Xiaomi phones were sold once in a week.
Xiaomi Redmi 1S
Xiaomi 1S was the first phone launched by the company in India and the initial response was so impressive that the company decided to offer more variety. The company sold hundreds and thousands of Redmi 1S phones through twelve flash sales on Flipkart. Xiaomi started off by selling 20K phones but increased the inventory up to 65,000 units. It was the best smartphone offered at a low price of Rs. 5,999.
Sony Xperia Z3
Sony's exceptional Xperia Z3 smartphone made some shoppers go wow and it was well-received by industry critics as well. Other competitive smartphones may have suppressed the sales of Xperia Z3 but the handset remained popular among consumers this year.
Sony pushed the limits on performance, design and camera quality. With its IP68 rating, the handset made a great rugged smartphone of 2014.
LG G3
LG's G3 marked the beginning of Quad-HD displays. Other manufacturers are incorporating the feature in their latest flagships to be launched in 2015. LG G3's razor-sharp display impressed many shoppers, which helped the company push a record number of units after launch.
LG G3's super-slim bezels, laser focus camera, rear buttons for unlock, power and volume and the best processor to run the phone grabbed a lot of attention and made it to the most popular phones of 2014 list.
HTC One M8
HTC is one of the finest makers of smartphones but its widely-criticized advertising efforts have affected the sales. HTC's latest flagship, One M8 smartphone, was the leader in premium handsets of 2014. The exceptional design, metal-clad body and incredible software made it critics' favorite smartphone of 2014.
OnePlus One
Popularized under the banner "The Flagship Killer," OnePlus made a huge impact in the Indian smartphone market with its high-end feature-heavy smartphone. The OnePlus One isn't available to consumers directly but requires a company invitation for purchase. Despite that it made smartphone lovers drool over its specs, design and most importantly CyanogenMod OS. (Yes! CyanogenMod will be supported for India OnePlus One handsets)
OnePlus One's price of Rs. 21,999 made it even more appealing to budget-conscious consumers in India. After all the specs offered at this price are worth every penny.
Motorola Moto X Second Generation
Motorola made itself a good name while under Google's ownership. Now, the company continues to receive Android updates along with Nexus devices and offers stock Android experience. This makes it one of the preferred choices for Android stock lovers at an affordable price range.
The smartphone's specs include a 5.2-inch Full HD display, Qualcomm quad-core processor, 13MP camera, and a lot more. It sells for Rs. 31,999 in India through Flipkart with cash back offers on State Bank cards.
Moto G
Motorola extended its stock Android experience to Moto G to offer flagship experience in a budget smartphone. Moto G was released in India in February and sold in great numbers through Flipkart. At the time, the company had no competition from Chinese upstart firms like Xiaomi to affect its sales.
Samsung Galaxy Note 4
Samsung had a rough year with its smartphone sales. The company failed to make an impression with its Galaxy S5, but turned the tables with the Galaxy Note 4. The new phablet was released recently but did well with Samsung fans. It was well-received by Indian buyers for its design and major upgrade in terms of specs like fingerprint scanner and super clear display.