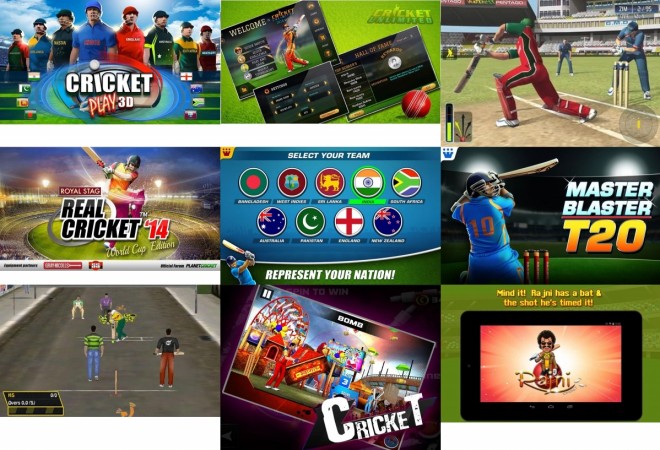 Cricket fever has gripped Indian fans, and a victory against arch rival Pakistan in their opening match at the ICC World Cup has made fans more excited.
The joy of watching matches and listening to or reading expert's comments and articles are so immense and intoxicating, that people actually feel like playing the game. But given today's busy life, it's not easy to take out time for playing.
For such fans, the best alternative is to play simulated games, against the biggest names in the world. Imagine you're at the crease with cricket superstars like Virat Kohli, Glen Maxwell or AB De Villiers, and every great shot of yours is cheered by him with a high-five.
If you are game for it, here are some fantastic cricketing games for your Android/ Windows Smartphone or Tablet device. All the games mentioned in the list are absolutely free to download and play. So here it goes.
Power Cricket T20- Windows And Android
Available on both Google Play Store and Windows Phone app store for free, this game let's you play against the best International cricket teams in the world. The game features three modes of game play- Tournament Mode, Super Over Mode and Scenario Mode. In the Tournament Mode, you can win three different trophies. In the Super Over mode, you can choose 3, 5 or 10-over match to play. In the Scenario mode, you can revive 30 famous and historic cricket matches and win them in crunch situations.
Cricket Unlimited- Windows And Android
Cricket Unlimited or CU manoeuvres new batting techniques even in slow motion so you get that feel of hitting a six. Enjoy dynamic graphics that blow you away, and amazingly optimized controls that make it easy for everyone to play.
Featuring 15 rounds of matches, the CU provides you stunning camera angles show your batting power, by hitting 24 different shots including helicopter, reverse sweep and scoop shots and encounter plethora of bowlers to challenge you.
Cricket 3D World Street Challenge- Windows And Android
Named as "Cricket 3D" in Android Play Store and "Cricket 3D World Street Challenge" in Windows mobile store, the game allows you to play cricket through 80 different levels, where each level has its own objectives to achieve by swiping and tossing the ball. The game features Swing and tosses the ball in right direction and more.
Street Cricket- Windows And Android
The game helps you to revive your nostalgic days when you used to play cricket with your gully friends. The game features a 5-over match in a similar gully like environment. Each team will have five players. Batsmen are predefined, but you can select your bowlers from the players available. After finishing one game you can start another. In this game you can run singles, hit over the building for scoring 2 runs and scoring singles by hitting the wall.
Master Blaster T20- Windows And Android
Named after the biggest cricketing icon ever Sachin Tendulkar, the game allows you to play against 15 cricket teams from all across the world. Use your batting skills to smash super sixes and boundaries. Face the toughest opponents to win 3 challenging T20 cricket tournaments! Play this game on your mobile phone while watching India-Australia series and World Cup 2015 series. The game allows you to play against popular international T20 cricket teams like Australia, England, Pakistan and South Africa and more. It also lets you play most of the popular cricketing apps and and win 3 challenging trophies.
Cricket Play 3D- Windows And Android
Retaining all the thrills, excitement and power pack actions of a real life cricket game, Cricket Play 3D features different cricketing shots and real-time vibration feedback. Play with only the best cricket teams in the World – India, Australia, England, Pakistan, Sri Lanka, South Africa, West Indies and Bangladesh. The game also features different formats of cricket, including 50-50, 20-20 and quick matches.
GilliDanda- Windows And Android
Known as Indian rural cricket, the Gilli Danda is a recreation game where rules are similar to cricket and baseball. 'Gilli', which is a short wooden stick is hit by another long wooden stick known as 'Danda'. Hit various objects in the path of 'Gilli' to score points. Clear each level to be the Super champion of Gilli Danda game.
The game lacks the adrenalin-pumping thrills of playing an real international cricket match, but retains the simplicity and bliss of Indian country side. The game features 10 levels, beautiful environment, physics engine-based gameplay, different scoring objects and blockers.
Rajni Cricket- Windows And Android
The ultimate cricketing game for Thalaivaa fans around the world. Unlike other serious cricket games, this allows you to play cricket with a blend of Rajnikant's super power. The app lets you play a quick, engrossing and engaging game where you get to choose between a 1,3 and a 5 wicket match! Use your cricket bat to smash boundaries and sixes and just wait till you see what extra punch The Great Rajnikant throws in when he faces the ball.
Real Cricket 14- Android Only
One of the best real life Cricket game which features numerous game modes, plethora of players, authentic cricketing equipments, large selection of bowling and batting styles. Real Cricket 2014 provides with diverse modes, Exhibition, Tournaments such as T20 World Cup, Masters Cup and Knockout Cup. Polish your skills in the Nets. The game also features a life like interface with impressive graphics. Unfortunately this game is not available till date in the Windows Mobile App Store.
Cricket World Cup Fever- Android Only
Another Cricket game with HD graphics, 3D players and stadium. The game features 14 teams, 6 stadia and 3 tough modes to select from. Apart from the popular game formats, it also retains the classic test cricket format where you can choose between 9, 12, 15 overs per day, with test match regulations in place like options to "Declare". The Cricket World Cup Fever also has a multi player cricket game naming IPL Cricket Fever 2013.