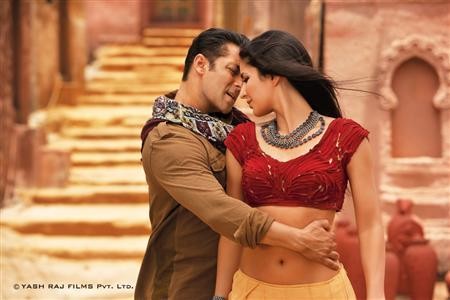 The year 2012 saw several Bollywood releases, many of which were commercially successful and drew critical acclaim worldwide. There were several other releases which failed to impress the critics or the audience.
Check out the top 10 grossers of 2012:
1. "Ek Tha Tiger" tops the list by grossing a whopping amount of ₹198 crore in India. Starring Salman Khan and Katrina Kaif in lead roles, the movie was released on Aug 15 and made a business of ₹32.95 crore on the opening day. Directed by Kabir Khan, "Ek Tha Tiger" broke many records in Bollywood. It joined the list of ₹100 crore in just six days. The movie also backed the title of second highest grossing Bollywood flick following Amir Khan's "3 Idiots".
2. Second movie to do well in the box office was Akshay Kumar and Sonakshi Sinha starrer "Rowdy Rathore". Reportedly, the movie made a total business of ₹134 crore in India. Released on June 1, "Rowdy Rathore" was directed by Prabhu Deva.
3. Following "Ek Tha Tiger" and "Rowdy Rathore", the next big movie to make it to the box office grossers was "Agneepath". The movie's cast included Hrithik Roshan , Sanjay Dutt, Rishi Kapoor and Priyanka Chopra in the lead roles. "Agneepath" hit the theatres on Jan 26 and was the first movie of the year to cross the ₹100 crore mark. According to reports, the movie grossed ₹123 crore in India.
4. Sharukh Khan's newly released "Jab Tak Hai Jaan", which is still running in theaters, has done a business of ₹121.27 crore, making it the fourth highest grosser film in India this year. The film was Yash Chopra's last directorial movie which also starred actresses Anushka Sharma and Katrina Kaif.
5. Indian romantic comedy "Barfi!" that made its way to Oscar nominations reportedly made a handsome business of ₹121 crore in India post its release on Sept 14. Apart from Ranbir Kapoor and Priyanka Chopra, the movie also starred south Indian actress Ileana D'Cruz.
6. "Housefull 2" is the sixth movie that joined the list of top 10 grossers of 2012. The movie, which stars Akshay kumar, John Abraham, Asin Thottumkal and Jacqueline Fernandez in lead roles, collected ₹114 crore in India. The movie was directed by Sajid Khan.
7. Following "Housefull 2" the next movie to do good business in 2012 was Rohit Shetty's comedy flick "Bol Bachchan", which stars Ajay Devgn, Asin Thottumkal, Abhishek Bachchan and Prachi Desai. The movie collected ₹104 crore in India.
8. The next movie to make it to the list of top 10 Grossers of 2012 is again an Ajay Devgn movie, "Son Of Sardar". The movie hit the screens along with "Jab Tak Hai Jaan" and is is still running in theaters. It has reportedly done a business of ₹103 crore. Directed by Ashwani Dhir, "Son Of Sardar" also has Sonakshi Sinha and Sanjay Dutt playing lead roles.
9. Amir Khan, Kareena Kapoor and Rani Mukherjee starrer "Talaash" recently crossed ₹100 crore, making it the second last in this year's list of top 10 movies.
10. "Oh My God", which was produced on a budget of ₹20 crore, rounded off the list by doing a business of ₹81 crore in India. The film starring Akshay Kumar, Paresh Rawal and Mithun Chakraborty drew wide critical acclaim.