India lies in a dangerous neighbourhood with two hostile countries, which have gone to war against it in the past. However, there has been a change in the dynamics and the economics of the Asian region that has seen the rise of China, which can now challenge not just India but even the US, along with intimidating other countries in the area.
India has always shown its reluctance to position itself aggressively, apart from the Indian Ocean region. The Chinese have virtually pushed the Indian government to the wall in a rather non-passive way, but India has always maintained that all its defence-related developments are for peaceful and defensive measures, and not to outdo anyone.
India has a large pool of technology related talents, and defence research organisations are doing their part to bring out the best in the Indian Armed Forces, by either collaborating with foreign companies or developing technology and designs indigenously. Some have been acquired directly like the set up with the US, where India buys directly through the US foreign military sales (FMS) programme.
The year 2013 saw the Indian Armed Forces commissioning aircraft-carrier Admiral Gorshkov that was renamed INS Vikramaditya, the first nuclear-powered ballistic missile submarine, INS Arihant's on-board nuclear reactor attained criticality and LCA Tejas getting its much-anticipated Initial Operational Clearance.
Below is the list of top 10 developments in the Indian Armed Forces for the year 2013:
INS Vikramaditya- This majestic looking 45,570 tonne aircraft carrier that was commissioned on 16 November 2013 at Severodvinsk, Russia, is Indian Navy's latest acquisition that will be force multiplier to the Navy, as the Indian Ocean region is greatly becoming infested by pirates. The former Admiral Gorshkov from Russia went into refits and complete change in its structural design in 2004 to become INS Vikramaditya, causing delay in delivery and cost escalation. The aircraft carrier will have 24 Mikoyan MiG-29K fighter jets and mix of 10 helicopters that might include Ka-28 helicopters ASW, Ka-31 helicopters AEW, ALH Dhruv choppers and SeaKing helicopters. The carrier will be based in INS Kadamba in Karwar, Karnataka.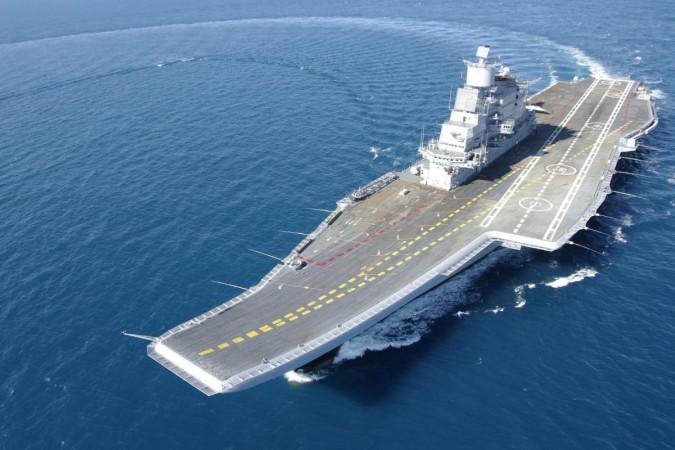 LCA Tejas - This is India's first indigenous Light Combat Aircraft (LCA) that was finally given the second leg of Initial Operational Clearance (IOC) on 24 December and will now go into achieving Final Operational Clearance by December 2014. The aircraft is the best in its classes and is a four plus generation aircraft with new technology. DRDO is also working on a Mark 2 version of the aircraft that will have a higher capacity. The aircraft will have features of a stealth fighter and have digital fly-by-wire control system with glass cockpit with real-time information displayed on it. The aircraft has tested air-to-air missiles to bomb dropping. In the future it will be equipped with beyond visual range (BVR) missiles. The project has seen various ups and downs in its 30-year long history of development.
Mountain Strike Corps- Indian Government cleared about 50,000 strong Mountain Strike Corps with two independent infantry and armored brigade, operating along the entire line of actual control (LAC) with China. The Strike Corps will be headquartered at Panagarh in West Bengal. This force will boast of "rapid reaction force capability in mountains" and will be able to strike deep in Tibet in case of Chinese incursions in Arunachal Pradesh, which China claims is its own territory.
Agni V - India tested for the second time its over 5000 km Intermediate Range Ballistic Missile (IRBM) successfully in September 2013 off the Odisha coast. The new missile adds to the national pride and is directed towards defending any hostile moves by its Northern neighbor. It incorporates some indigenous technologies like composite rocket motor, state-of-the-art avionics, fifth generation on-board computer distributed architecture, laser Gyro-based Inertial Navigation System, micro-navigation system and the re-entry kit shield.
INS Arihant and INS Vikrant- Indian defence scientists and technologists added another feather to their cap by achieving the crucial criticality of the in-board nuclear reactor. Arihant is India's first indigenously developed class of nuclear-powered ballistic missile submarines with five more in the pipeline. It will also complete India's nuclear triad capability.
The INS Vikrant was floated off the dry docks proving the capability of Indian defence designers and its builders to be able to construct an indigenous aircraft carrier, which will be a 37,500 tonner with STOBAR feature with a ski-jump. It was launched in a big ceremony on August 2013 at Kochi, marking India's entry into a elite club of nations that have the capability to build their own aircraft carriers. Vikrant will complement the INS Vikramaditya as India plans to have three operational aircraft carriers. It is likely that this massive carrier will have 12 Mig-29K and 8 LCA Tejas with other Kamov Ka-31 helicopters.
Pilatus PC 7 MK II-This Swiss-made basic trainer aircrafts were inducted into the Indian Air Forcefor the training of its cadets filling in an important gap in the transition of pilots from ab-initio stage through intermediate and advanced stages into full-fledged operational flying. Since its order the Air Force already has 14 aircraft and 75 more to come.
GSAT-7 -This is India's first military satellite, that is exclusively for the Indian Navy and will provide military communications thus improving the maritime security and intelligence gathering abilities over the vast Indian Ocean Area. It will also link ships, submarines, aircraft and command from land in real time
C-130J Super Hercules, C-17 Globemaster III and Boeing P-8I - India's capability for strategic airlift got a boost with the induction of six C-130J Super Hercules and four -17 Globemaster III with six more to be eventually delivered. Both these aircrafts have displayed capability to land or take-off from semi-prepared runways. India has placed another six C-130J Super Hercules on order. India had also ordered eight Boeing P-8I for Long Range Maritime Reconnaissance and Anti Submarine Warfare (LRMRASW) with it, receiving two of them on schedule adding teeth to its maritime reconnaissance and anti-submarine warfare.
K-15 / Sagarika Missile and BrahMos SLCM - The year for the Indian Military started off with a good note as it successfully tested the K-15 Sagarika, a nuclear-capable submarine-launched ballistic missile with 700 kilometres of range in January. This SLBM will be completing India's nuclear triad policy. It will grace India's indigenous nuclear submarine, INS Arihant.
BrahMos SLCM

-

The BrahMos project is a joint venture between India and its long-time ally Russia that resulted in a development of supersonic cruise missile. BrahMos has been billed as world's fastest cruise missile travelling at speeds of Mach 2.8 to 3.0. With the land variant already in service, the successful testing of the missile under a water pontoon will eventually pave way to its unlimate integration into the Indian naval ships and submarines.
ALH-Dhruv Squadron - India commissioned its first Advanced Light Helicopter (Dhruv) Squadron into the Navy at Kochi in November. Dhruv is an indigenous 5-ton multirole helicopter used for transport, utility, reconnaissance and medical evacuation roles.
Apart from the ones listed above, the Indian Military with scientists from DRDO's various labs have teamed up to provide indigenous solutions to keep their armed forces with advanced arms, equipment and technology.
India was successful in the testing of 130 mm canon, Arjun Catapult system and many other systems that displayed self-reliance and ability to build new strategic relationship with U.S. and improve the existing ones with Russia.
There were also unsuccessful or sad events like the sinking of the INS Sindhurakshak submarine while it was being armed for deployment and the failure of Nirbhay Cruise missile.
India has a long way to go if it has to counter the might of China in case of any misadventure on its part.