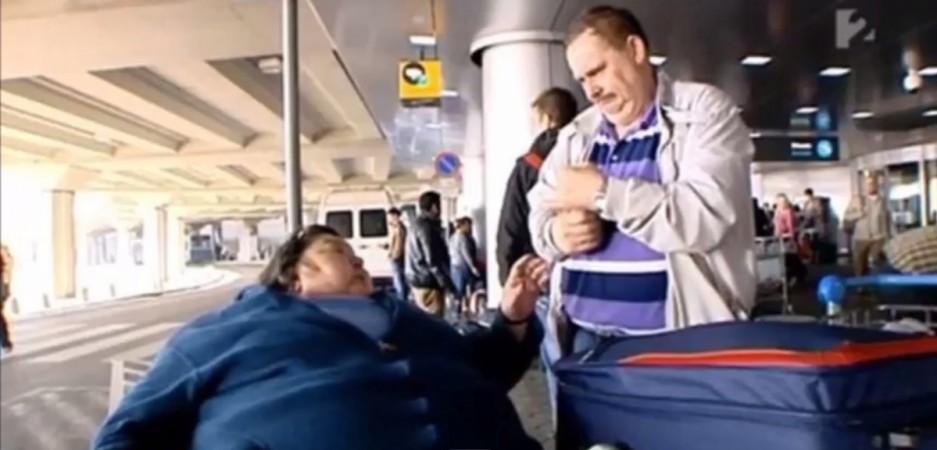 Fifty-six-year-old Vilma Soltesz was on a vacation to her native Hungary with her husband Janos Soltesz, 57, in September 2012. She was a patient of morbid obesity but was fine when she flew to Europe, according to Daily News. She also had an amputated leg, which made her wheelchair bound.
The trip became a nightmare when Vilma fell sick and doctors advised her to return to the States for medical treatment. Even the doctors whom the couple approached in Hungary gave a clear pass to the obese woman to fly. But she was not allowed to fly to New York City by Delta, KLM or Lufthansa Airlines.
According to Daily Mail, the couple first booked a KLM Royal Dutch Airlines flight to travel home on 15 October. But they had to get down after boarding as two of the seats where the duo supposed to sit were broken. The situation got worse when the employees were unable to arrange any other seats for them.
Vilma and Janos waited for five hours in the airport and then they were told that they could board a Delta flight the next day. KLM employees assured the couple that Delta had been informed about Vilma's condition.
In spite of arriving seven hours early to avoid any problem, the couple couldn't make it to Delta flight as well, reports The Wall Street Journal. The reason was that Delta didn't have appropriate wheelchair for Vilma to transport her to the seat.
The couple then returned to their vacation home and their travel agent assured them that they were been booked in a Lufthansa flight on 22 October. The Daily News quoted the lawsuit, which stated that the agent informed the airline about Vilma's weight and condition so that proper arrangements could be made.
This time Lufthansa medics and fire-fighters helped her to board the flight safely. But then the captain came out of the cockpit and told Janos that they had to embark as other travellers need to catch a connecting flight and thus could not be delayed further, reports Mail Online.
The couple then drove back to their vacation home and the exertion affected Vilma's health. On 24 October, at the age of 56, she was found dead on bed, exact nine days after she was supposed to meet her doctor in the States, according to Mail Online.
Jason filed a lawsuit in the federal court in Manhattan last October against the three airlines who were held responsible for his wife's death.