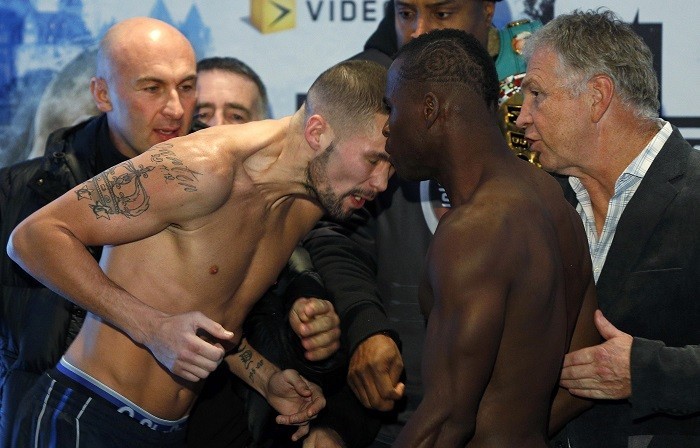 Tony Bellew will look to upset the odds when the Englishman takes on champion Adonis Stevenson in their light heavyweight title fight in Quebec, Canada on Saturday [Sunday morning in India].
Where to Watch Live
The fight coverage is scheduled for a 6.30 am IST start, with the undercard showdown, which also includes the WBO light heavyweight showdown between Sergey Kovalov and Ismayl Sillakh. There is no live coverage in India. You can, however, watch all the action in the U.K. via live streaming by clicking HERE. The fight is set for live coverage in the U.S. on HBO. For updates click HERE.
Overview
WBC and Ring magazine title holder Stevenson starts the fight as the favourite, particularly with the matchup taking place in his adopted hometown. Liverpudlian Bellew comes in as the underdog, and will hope to go away from Quebec with the world title in his hands, having already failed once in October 2011 when he was beaten by Nathan Cleverly in a title fight.
Bellew gets a second crack at the title after a tight victory over Isaac Chilemba and the two fighters on Friday night got the ball rolling in what will hopefully be a tough fight by getting physical during the weigh-in.
The two fighters started with some verbals as both of them squared up, with Bellew then pushing his face into Stevenson before the Canadian followed suit. The two then had to be separated to avoid the matter getting out of hand.
"He got into my face so I butted him," Bellew said. "He tried to put his face into me so I slammed my head into his nose."
Stevenson tipped the scales at 174 pounds, with Bellew weighing-in a pound heavier.
Stevenson's knockout power has grabbed quite a bit of attention in the recent past, with victories over Chad Dawson and Tavoris Cloud particularly catching the eye. But Bellew insisted he will not be intimidated ahead of the encounter.
"I've been thinking about him morning, noon and night," the 31-year-old, who celebrates his birthday on the day of the fight, said. "He's the first thing I think about when I wake up and the last thing I think about when I go to bed. All I want to do is nail him.
"Don't believe the hype. You should just look at the facts, and the fact of the matter is that he's been knocked out by a journeyman.
"I've got respect for what he does, and I respect his punch-power, but come Saturday night there's only going to be one winner. I'm hurting Adonis Stevenson, and I'm taking his belt."
Stevenson, however, sounded as confident as ever of defending his title in his own backyard. "Nobody is going to come here to Canada and take my title," he said. "He's going back to Liverpool with a black eye and I'm going to knock him out. Believe me, Bellew is going down."