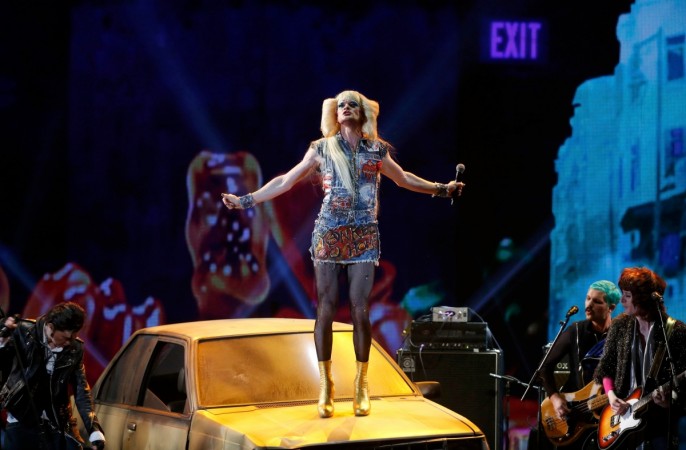 Neil Patrick Harris was the highlight of 2014's Tony Awards ceremony when he dressed up as a drag queen complete with fishnet, blonde wig and high-heeled golden boots.
His raunchy performance of "Sugar Daddy" as Hedwig from his Broadway hit "Hedwig and the Angry Inch" was an interactive one as it featured Harris landing on Kevin Bacon's lap, licking Samuel L. Jackson's glasses, making out with husband David Burtka and giving a lap dance to Sting. It also had him standing over actor Orlando Bloom in a skirt made out of dangling twinkle lights.
Harris was accompanied by Lena Hall, who was as shocked by her co-star's impromptu performance as some of the audience.
"I really actually don't know – I'd imagine they'd have to get approval, but honestly, Hedwig does what Hedwig does, I can't stop her from going out and accosting whoever she's going to do that to!" she told The Hollywood Reporter.
Talking about the act, Harris later told The Hollywood Reporter that "one of the benefits of having hosted this show previously is, I can sneak around and get intel on who's sitting where. They weren't alerted that things were going to be happening to them – naughty, dirty things."
Later that night, the four-time host of Tonys picked up the Tony Award for Best Performance by an Actor in a Leading Role in a Musical for essaying the role of a rock star whose sex-change operation goes wrong.
Although Harris made it look easy, transforming himself into a feminine character took a lot of hard work.
"It's tough to strut around in high heels and not feel a fool, tough to manage a full wig of hair, to cock a wrist, to embrace a bra and not feel like you are somehow going to be exposed ... But in a role like this, you have to commit. You can't tiptoe, you have to bulldoze. And the more I trusted, the further I went, the better it felt. Now her mannerisms seem second nature," said Harris.
"Hedwig and the Angry Inch" was also named best revival of a musical, and while Kevin Adams took home the award for best lighting design of a musical, Hall was the best featured actress in a musical.