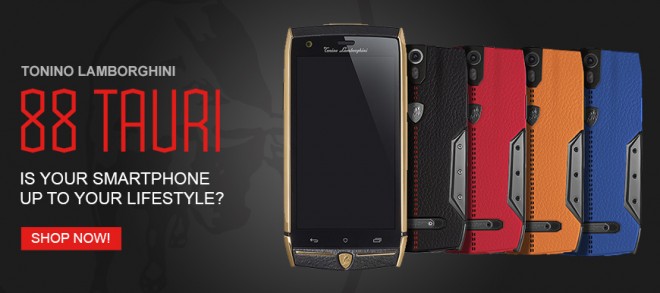 Tonino Lamborghini Mobile, the maker of luxury electronics, unveiled its latest Android smartphone, 88 Tauri, with cutting-edge technology and new design. The handset brings a true combination of style and luxury for a price that is not affordable for many but gives a stand-out class in the crowded market.
While smartphone giants like Apple and Samsung are battling for dominance with high-end specs and competitive pricing, Tonino Lamborghini has a completely different take on mobiles. The company is not linked to the Lamborghini automobiles but was created by the son of famed auto designer Ferruccio Lamborghini. The 88 Tauri features a unique look that compliments the brand altogether.
"Mobile phones are such personal devices that someone's choice of smartphone says a lot about them. 88 Tauri is the latest example of applying the Tonino Lamborghini design philosophy to the accessory we all use the most," Gianluca Filippi, CEO Tonino Lamborghini Group, said in a statement, according to Bangalorean.net news site. "Uncompromising quality in every detail, down to the stitching, and vibrant color choices help our devices – and users – to stand out from a sea of too-similar phones."
Design
The Lamborghini 88 Tauri features sharp lines and color combination with the raging bull icon on both sides of the device. Built with a combination of steel and leather, the steel body comes in three paints, black, gold and steel silver, and the leather part has five color variants (black, blue, red, orange and brown).
Each handset has its own significance as it carries a unique device number and only 1,947 pieces of each color are to be made. Every smartphone will be hand built and use best-in-class material. Clearly, the company aims at providing the best product and is not after the volume.
Under the hood
The smartphone's specs are not the greatest available in the market but suitably fits into the high-end smartphone category. It is powered by a 2.3GHz quad-core Snapdragon 801 processor, 3GB RAM and has 64GB built-in storage, expandable up to 128GB. There is room for two SIM card slots and can be used with any network around the world with high-speed LTE networks.
Display and Camera
Lamborghini 88 Tauri sports a 5-inch display with Full HD 1080p resolution and sports a 20-megapixels rear-facing camera with auto-focus and dual LED flash and an 8MP front snapper. To rest the need to charge the device more frequently, there is a massive 3,400mAh battery that can keep the handset running for up to 35 hours with 3G network. To add an exclusive touch, there are 13-exclusive ringtones created by DJ Ravin.
Pricing and availability
Lamborghini's 88 Tauri is available in select stores around the world. The new luxury handset is priced $2,000 more than its predecessor at $6,000.