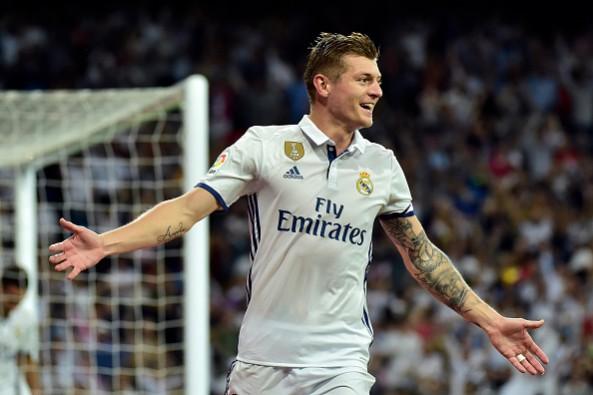 Real Madrid midfielder Toni Kross has stressed that the Spanish capital club is keen on winning the Champions League for the third year in a row.
Zinedine Zidane has guided the La Liga giants to two of their three successes in Europe's elite club competition in the last four years. It started with a victory over neighbors Atletico Madrid in 2014, followed by winning the competition in the last two seasons.
The Frenchman was in charge of Real in the last two campaigns, where they defeated Atletico and Juventus in the final. The 12-time European champions face Bayern Munich in the first leg of the Champions League semi-final clash on April 26.
Kroos, who left the Bavarian club, and made a switch to Real after winning the World Cup with Germany in 2014 stressed his side will face "tough opponents" against Bayern.
"The team that wins this competition can say that they're the best side in Europe and for that reason, I'm certain that Bayern will also want to win it. Apart from the on-field side of things, I think that Spanish fans are more passionate about the game compared to German supporters. The two clubs are similar in size," Kroos explained.
"I'm expecting tough opponents, after all it's a Champions League semi-final and it's obviously going to be tricky. Compared to previous years, I think that they won the league title early on this season, but you don't feel as if they've tailed off. Bayern have given a good account of themselves in recent years. They'll want to make the final and we're expecting them to be very hungry for success."
On Bayern manager Jupp Heyneckes, the German international said: "He's good at what he does and you can see that everything is working smoothly and I can vouch for the fact that at a club like Bayern and Real Madrid it's extremely important that there's a good atmosphere if you're to have success. It's not all just about tactics, it's also important that there's a good spirit. I experienced that myself and that's why it's no surprise that Bayern are doing so well."