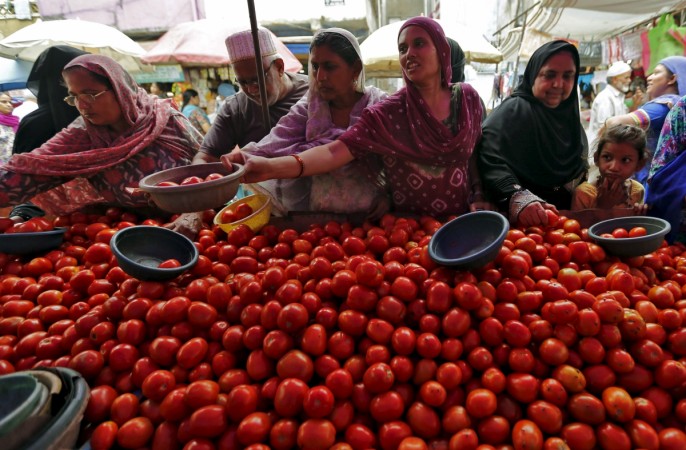 Tomato prices are bringing cheers to farmers in Karnataka this year. Last year, prices had crashed so much that many farmers in the state preferred to dump their produce on the roadside rather than sell the vegetable at low prices.
Tomato is yielding more than Rs. 500 per 15 kg in the state's Agriculture Produce Marketing Committee (APMC) yard in Kolar, reported the Hindu, adding the prices had slumped to a low of Rs. 30 per 15 kg last year.
The situation was quite different till about two months ago, when the vegetable was being sold for as low as Rs. 3 per kg in Telangana, another south Indian state.
"I usually bargain with the vendors during groceries shopping. But the farmer is selling tomatoes at such low price that I did not even feel like asking him to decrease further. Since, I wont be able to store such quantity or entirely use it, I plan to distribute it among neighbours," the Hindu quoted Shanti, a resident of Ameerpet, as saying.
However, other vegetable growers in Karnataka are not as lucky as tomato farmers. "Beans is being sold at Rs. 100 per kg in the wholesale market, but growers will get only Rs. 50. Middlemen are making a huge profit taking advantage of lower supply of vegetables due to drought," K Srinivas, a farmer from Kolar, told the Hindu.
On the contrast, the situation for tomato growers in neighbouring Maharashtra is depressing. A bumper crop in Narayangaon region, one of the largest tomato-growing areas in the state, saw farmers being short-changed by middlemen.
An Indian Express report said that farmers in the region were being paid Rs. 5 to Rs. 7 per kg despite the vegetable being sold at a retail price ranging between Rs. 25 and Rs. 30 per kg in Mumbai and Pune.
Foor price inflation had risen to 6.32 percent in April from 5.21 percent in the previous month, leading to overall retail inflation climbing to 5.39 percent from 4.83 percent in March, according to Indian government data.