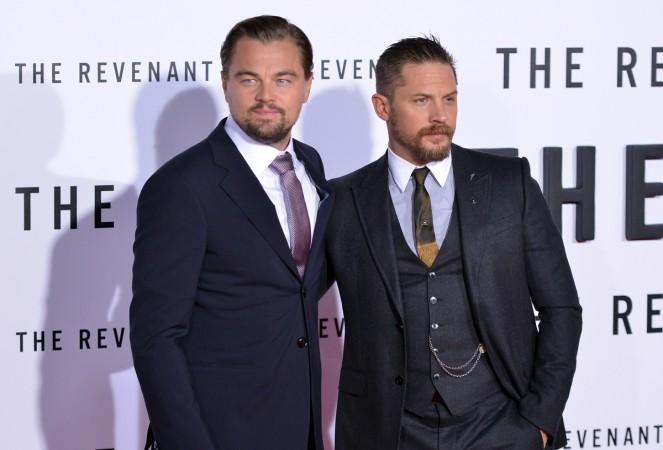 Losing a bet couldn't get more embarrassing than this! Tom Hardy reportedly lost a bet to his, The Revenant co-star Leonardo DiCaprio forcing the former to ink "Leo knows all" on his biceps.
It took the Venom actor two years to fulfil his bet but boy, not only did he ink the tattoo, he got a huge tattoo reading the lines that it is hard to miss.
Also read: Tom Hardy filming for a book adaptation in North Devon?
But what were the bets placed on? And how did Hardy lose?
As reported by The Sun, the story goes back to 2015. The two actors placed bets on the Oscar nominations. Leo told Hardy that the latter would bag a nomination for his work in The Revenant that year.
Hardy reportedly disagreed and the duo decided whoever lost the bet would get a tattoo of the winner's choice. To Hardy's surprise, he won a Best Supporting Actor nomination in 2016 but did not win the Oscar for the same. Not only did he lose the award, he also lost the bet and it was up to Leo's imagination to decide his new tattoo.
Later that year, Hardy confessed he hadn't got it done yet because Leo's "handwriting was so terrible."
"He wrote, in this really s***ty handwriting, 'Leo knows everything.' I was like, 'OK, I'll get it done, but you have to write it properly,'" he revealed. Looks like Leo got his handwriting in place and his reward for the bet.
The new tattoo surfaced when a fan took a selfie with the actor and a tattoo on his forearm read, "Leo knows all" indicating that the actor fulfilled Leo's wish.
Last month, Hardy spoke about the bet with Vanity Fair and said, "F***er. He would never get a tattoo if he lost that bet! It was just one-way. I'm covered in shit tattoos anyway, so it doesn't make any difference to me. If I got a big bold 'Leo' right across my thigh or across my face. It's just that, isn't it? You bet a tattoo, you lose. That's what happens."
Oh well, fans are happy you dared to do it anyway Hardy!