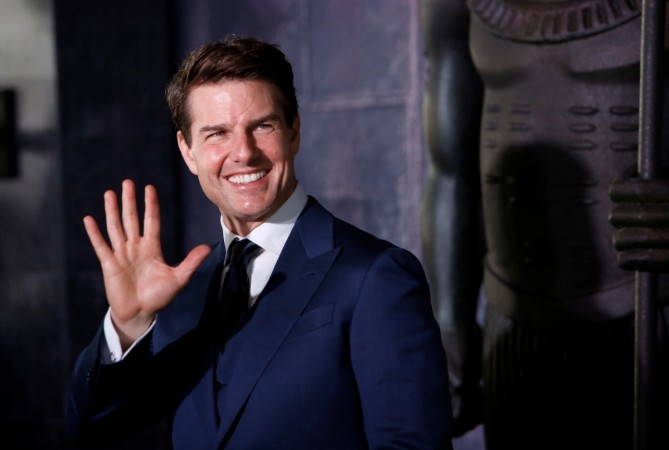 Tom Cruise's dedication to Scientology is known to all and it appears the Hollywood star can go lengths to popularise his religious faith. According to a recent report, he reportedly set up a booth at one of his movie sets in order to try and convert his cast and crew.
The news came to light after Michael Ovitz, Cruise's former agent, made startling revelations in his new memoir Who Is Michael Ovitz? A Memoir. The actor's former agent also revealed that Cruise ignored the repeated warnings of the controversial faith and went ahead to set up a booth during the filming of his 2005 movie War Of The Worlds to boast about the controversial faith.
"We advised our clients to keep their heads low and mouths shut. In those days, Tom Cruise's profile as a Scientologist was minimal because we'd told him, 'Keep your religion and your work separate," Ovitz wrote in his memoir, according to The Mirror UK.
The former agent's memoir was published in late September this year and has spoken about the reluctance of Scientology to get publicity from the Hollywood star. "I read Dianetics, by Scientology's founder, L Ron Hubbard, to better understand what we were up against and went to see David Miscavige, Hubbard's successor, and explained we had a common interest: 'We don't want to see Tom's name in the paper for anything but his career,' He allegedly wrote in the memoir.
According to the UK-based tabloid, Ovitz wrote that Steven Spielberg told him about the Scientology booth. "Spielberg told me that on the set of their 2005 film War of the Worlds Tom set up a Scientology booth to proselytise."
The 54-year-old actor was first introduced to the controversial faith in 1990 and soon became an active advocate of the organization. An archived Page Six report suggests that Cruise and Spielberg have had a major rift during the promotional campaign of War of the Words.
Last week, Nicole Kidman, the Mission Impossible actor's former wife, has opened up about her adopted children with him. "They are adults. They are able to make their own decisions. They have made choices to be Scientologists and as a mother, it's my job to love them," she told Who magazine about her children Isabella, 25, and Connor Cruise, 23, who chose to follow their father's religious beliefs
"And I am an example of that tolerance and that's what I believe – that no matter what your child does, the child has love and the child has to know there is available love and I'm open here," she added.