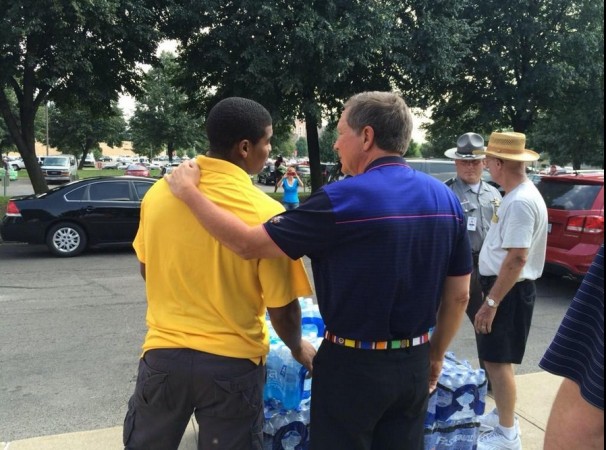 The ban on drinking tap water, which left around 400,000 of residents of Toledo - Ohio's fourth-largest city - distraught last week after an algae bloom in Lake Erie contaminated the water, has now been lifted.
Ohio Governor John Kasich had declared a state of emergency for Lucas County and the neighboring Wood County, when chemists at a Toledo water treatment plant recorded readings of microcystin - a highly toxic substance that can cause abnormal liver function, diarrhoea and vomiting.
Residents were told not to drink the water or use it for washing dishes or brushing teeth, LA Times reported.
City strongly recommends all restaurants and food facilities temporarily suspend operations due to water advisory.

— D. Michael Collins (@DMCToledo) August 2, 2014
Since the contamination was from algae, authorities warned that boiling the water would actually concentrate the toxin, making it even more dangerous to ingest.
Met today w/leaders in Toledo. We're committed to fixing the immediate crisis & addressing the long-term challenges. #emptyglasscity

— John Kasich (@JohnKasich) August 3, 2014
During the crisis, many volunteers came out to help their brethren, like the three Bowling Green State University students Peter Funk and Aidan Hubbell-Staeble and incoming St. John's Jesuit freshman Tynan Hubbell-Staeble, who made a trip from Bowling Green with a car-full of water and a giant cooler that they bought from Wal-Mart to deliver to the Martin Luther King kitchen for the Poor on Vance Street, Toledo, reported The Blade.
"A lot of incredible volunteers doing great work up in Toledo. Ohioans take care of each other," noted Kasich
Authorities also kept citizens in the loop with periodic Twitter updates on when the results from the United States Environmental Protection Agency will be available.
"UPDATE: The health department now says you can use tap water wash dishes. Wash with tap water & dry them then rinse with bottled water," United Way Toledo posted.
Test results released on Monday morning showed that "there are no problems whatsoever" with the drinking water, Mayor D. Michael Collins said in a televised news conference. "Our water is safe. Families can return to normal life." In order to assure citizens, the mayor then lifted what he said was a cup of Toledo tap water and drank it.
"Tests suggest the water is safe to drink. A huge thank you to all volunteers and community members who helped us get through this!" he tweeted.
Meanwhile, Glenn Research, one of ten NASA centers, on 5 August announced that they would be using remote sensing technology, previously developed for Mars exploration, to learn more about the Lake Erie algal bloom.