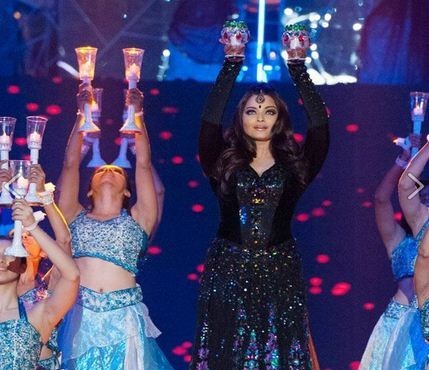 The recently concluded Times of India Film Awards (TOIFA) marked the first international stage performance of Bollywood diva Aishwarya Rai Bachchan on Saturday post the birth of her daughter Aaradhya.
Aishwarya enthralled the audience with her peppy performance choreographed by Shaimak Davar on the third day of the award ceremony which commenced on 4 April. She performed to popular numbers from her movies like "Jodha Akbar", "Taal", "Devdas" and "Dhoom 2".
Aishwarya's performance was one of the highlights of the night. Aishwarya looked gorgeous in a black shimmering costume and her moves were a blend of Indian and Western dance forms.
Checkout Aishwarya's performance at TOIFA :
This is Aishwarya's second stage performance after the birth of Aaradhya in November 2011. She made a comeback on stage by giving out a fantastic performance at the Ponds Femina Miss India event held in March.
Apart from Aishwarya, other celebrities who performed at the event were Priyanka Chopra, Katrina Kaif, Shah Rukh Khan and Abhishek Bachchan.
Prinyanka dedicated her performance to woman power and danced to tracks like "Desi Girl" and "Salaam-e-Ishq" and "Mar Jawaan".
Katrina Kaif shook a leg to one of her popular tracks "Chikni Chameli" from the movie "Agneepath".
The show was hosted by Anushka Sharma, Ranbir Kapoor and Boman Irani. The trio kept the audience entertained throughout the event.
The audience went crazy after the anchors announced a performance by Shah Rukh Khan. The actor danced to numbers like "Suraj Hua Maddham", "Challa", "Main Hoon Don", "Dard-e-Disco", "Chaiyan Chaiyan" and other hits.
The closing performance of the three-day long award ceremony was marked by a mind blowing performance by dance guru Shaimak Davar who had choreographed all dance sequences of the event.