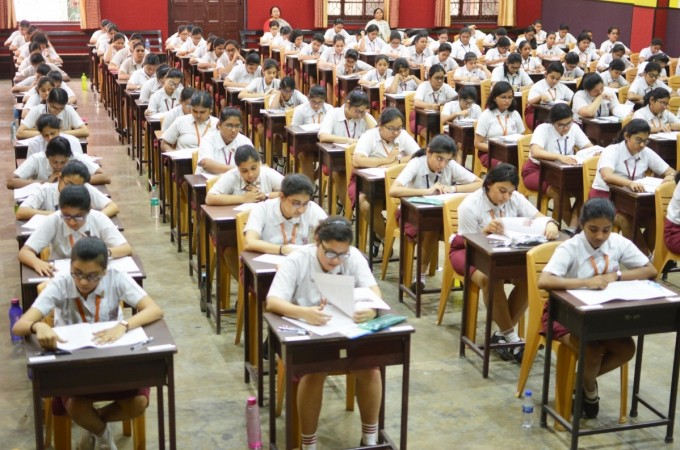 Tamil Nadu Secondary School Leaving Certificate (SSLC) results have been declared on Wednesday (23 May). The students of Class 10 can visit the official website tnresults.nic.in to see their marks and it will be also available through SMS facility. The overall pass percentage of the academic year 2017-2018 is 94.5 %, which is 0.1% higher compared to last year.
The state education minister, K.A. Sengottaiyan announced the result on Wednesday during a press conference and later Directorate of Government Examinations (DGE), who conducted the examination from March 16 and April 20, 2018, has uploaded the results on the official website at around 9.30 am.
The board has noticed a drop in the numbers of the students appeared for 2018 Class 10 exam compared to last year, as this time a total of 10,01,140 students took up on the exam while in 2017 the number was 10.25 lakh. Out of almost 10 lakh students, about 2.6 lakh candidates of SSLC exam have bagged more than 400 out of 500 scores. Almost 10 lakh students from Puducherry and Tamil Nadu have sat for the Class 10 examination.
Chennai has improved the overall pass percentage compared to last year. In 2017, the district had 93.8 pass percentage which increased to 94.2. In the academic year of 2017-2018, the pass percentage for Science is 98.47, which is the highest among others. The pass percentage for English, Social science, Language and Maths are 96.50, 96.47, 96.42 and 96.18 respectively.
If students are planning to take a provisional marks card, then they can collect it on May 28 from respective schools.
As per the reports, Erode with 98.38 pass percent has clinched the first place among other districts, while other top places Virudhunagar and Sivagangai left behind with 98.29 percent and 98.5 percent respectively.
The girl candidates of SSLC exam has performed better than the boys, as 96.4 percent girls qualified the exam, while almost 92.5 percent boys cleared the Class 10 exam.
However, those students who failed to clear the board exam this year, they can give the supplementary test, which would take place on July 28, 2018. For re-valuation applications students have to pay Rs 205-305 and candidates can apply for that at the respective schools between May 24 and May 26, 2018.