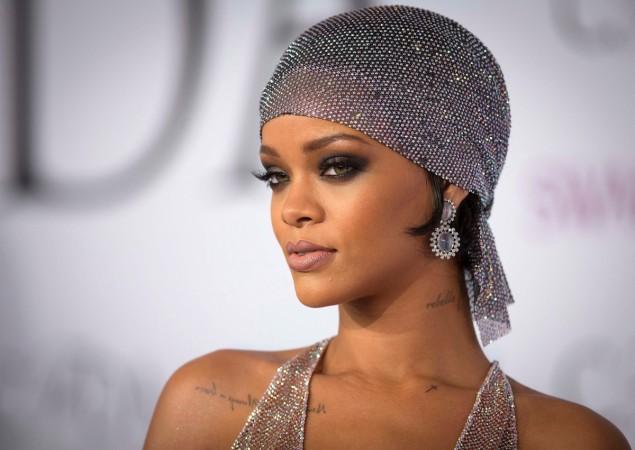 Rihanna has received both criticism and praises for the see-through dress that she wore to the CFDA Fashion awards ceremony early this week. While many have applauded her for daring to go nearly naked, an equal number have asked her to put a lid on her exhibitionist ways.
Rihanna's CFDA costume, designed by Adam Selman, was embellished with more than 230,000 Swarovski crystals and left little to the imagination. Rihanna's bare breasts were clearly visible through the translucent gown and a number of people were of the opinion that she has pushed the envelope a bit too far this time.
TLC, an American girl band, criticised Rihanna's CFDA look saying that the singer is using sex to sell her work.
Tionne "T-Boz" Watkins and Rozonda "Chilli" Thomas made these comments during their appearance on Australia's Sunrise 7.
TLC was popular in the 90s, but they broke up in 2002 shortly after their bandmate, Lisa "Left Eye" Lopes, died in a car accident. But they reunited in 2009, which marked the 20th anniversary of their hit single Waterfalls, for a series of concerts.
"Every time I see you, you don't have to be naked. It is what it is, I call it spade of spade. We sold and became the biggest girl-selling group of all-time with our clothes on, that says a lot. It's easy to sell sex….we can go around with boobie cakes out all day long."
Rihanna responded to the criticism by changing the background of her Twitter page to a topless picture of the "No Scrubs" singers.
"When there's no changing the fact that I'm me, and they're well...they're them," she tweeted along with a photo of herself sticking her tongue out.
T-Boz also took to the microblogging site to react to the diss stating that they weren't talking about Rihanna specifically.
"Last time I checked I didn't say no bodies name the interview lady did shit I'm out of the country lol I didn't even see pics," she tweeted. "How did I get dragged in2 talkin about some1 I like I don't care what my opinion is I'm gonna say what I want at least get what I say right."