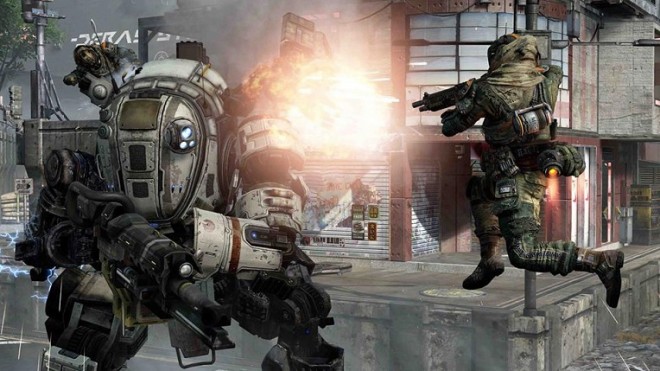 Respawn Entertainment's multiplayer only FPS title, Titanfall features pilots and mechs called Titans. The developer has released 2 minutes odd video that shows the making of the Swampland downloadable content (DLC) map.
Chris Dionne, level designer at Titanfall took to the website to post information on the new DLC map that took years to perfect.
"In summer of 2011 Titanfall was embryonic; Pilots could spam explosions with a trigger pull, Titans spawned and respawned and fire teams roamed the maps getting trampled on. In the midst of this, a multiplayer map was born out of the simple message 'Make an MP level in a swamp'. After years of twists and turns and false starts, DLC ended up being the perfect time to revisit 'Swampland.'" said Dionne in the post.
What started as a flat level map filled with yellow fog and towering redwoods was abandoned for 2 years as Titanfall was in the final stages. Once the game was completed, to work on a map gets more 'exiting,' as this level got its birth off heavy experimentation and iteration, Dionne said.
He said that when the team was playtesting, it was decided that the huge trees that were pushed to a side were placed on the center. It seemed like the Pilots were now the ninjas, jumping from these massive trees.
The Swampland DLC map is part of the Expedition DLC along with two other maps – Runoff and War Games. The campaign in Expedition occurs in the ancient alien ruins of the swamps, water and training simulator maps.
Check out the video here.
Showdown and Mismatch Videos from Transformers Universe Released
Upcoming browser-based MMO video game, Transformers Universe from developers Jagex Games Studio and Hasbro releases couple of teaser videos for two characters, Showdown and Mismatch.
The videos showcase the characters from both sides – Autobots and Decepticons. The video of Autobot Showdown showcases its special skills and weapons that include Back Shard (Nebulan Minigun), Time Tag (Arc Hammer) and Channel Charge (Inertial Surge Cannon).
Decepticon's Mismatch is described as a "fearsome amalgamation of metal," who enters the battlefield with "spare parts and blasting rockets from his launcher." His weapons include – Blow Fuse, Scrap Part (Fragmentation Rocket Launcher) and Iron Scar (Rotaron Saws).
(YouTube Courtesy: Transformers Universe)
(YouTube Courtesy: Transformers Universe)
(Ed:AJ)