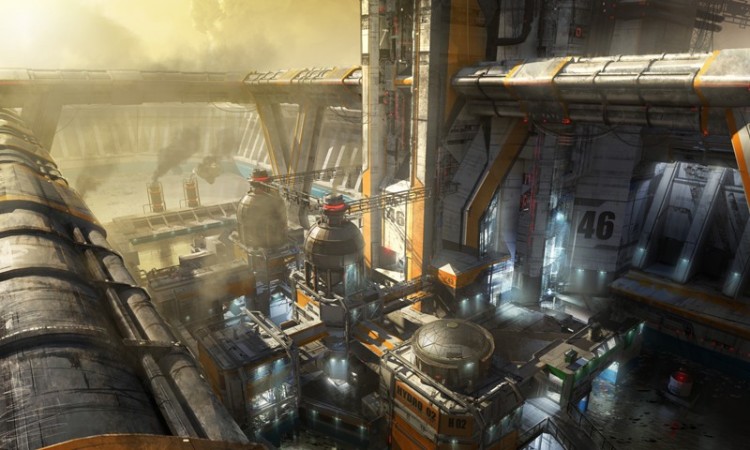 Titanfall, the FPS title that was released in March has given FPS players some fast paced action. Now the game from Respawn Entertainment has revealed that there will be a new downloadable content (DLC) titled 'Runoff.'
Runoff DLC will be a part of the first DLC expansion, Expedition that will be coming in May. "Runoff was an experiment to try and make a small map, but still allow Titans enough pathing options, so that they don't feel constrained or limited," said Geoff Smith, designer at Respawn in a post on the official website.
He explains that the map will have multiple layers of paths - concrete canals that are filled with water and trash and cleaner upper levels that are more industrial in nature. Though it is difficult to put in choke points, the designer said that he has managed to squeeze in more such points. As far as the canals go, he said that he thought it "would be cool for Titans to fight in with the Pilots jumping across them."
Players will find that at the center of the map there will be three main buildings, with the largest of them having two big inlet tubes in the center. The other buildings are connected with sky-bridges and billboards. Beneath these buildings is a trench, what Smith calls, "central artery" in the map. Any Titan falling into these trenches will have its consequences as the player will have to travel to the end of the map in order to find a ramp back up. However, the trenches will be able to help player in providing a faster escape route if it gets into a tougher and unwinnable battle.
In the either sides of the end of the main trench path, the flag bases will be based, allowing the player's pilot to move between these flags faster.
He also revealed that the map will have three hardpoints - A, B and C where B will allow a Titan to capture the point directly but A and C will let them provide cover, and see and shoot.
The map is designed to help players have fun using all the game modes and each mode will have a different affect in the game's result.
Expedition DLC was announced during the PAX East event in Boston in April. The DLC will include maps like Runoff, Swamplands and War Games. Players will be moving to the Frontier as they faced defeat after the Battle of Demeter. The DLC which will release in May will be costing $9.99 for non-season pass holders.
Meanwhile, Threezero, a toy manufacturer released figures from the Titanfall video game at the Thailand Toy Expo. Participants were shown what was reportedly a prototype of Titanfall: Atlas.
Titanfall: Atlas consisted to two pieces - 20.5 inches tall Atlas Titan and a 6 inches tall pilot, said the company's Facebook page.
The Pilot will be able to fit inside the Titan and it also has "light-up functions"
Image credit: titanfall.com
(Ed:AJ)