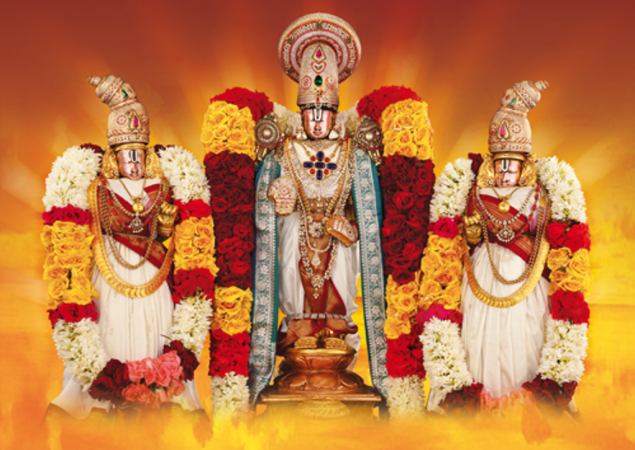 Tirumala Tirupati Devasthanams (TTD) has created record for the biggest gold depositor in State Bank of India (SBI) on Saturday, when it deposited devotees' gifts to deity Sir Venkateswara Swamy, including 1,800 kgs of gold.
TTD already has pure gold deposits of 4,335 kgs in SBI, Corporation Bank and Indian Overseas Bank. Saturday's gold deposit in SBI is for a period of five years under 'Gold Deposit Scheme'. As part of a tradition, devotees present the deity gold, silver and cash everyday.
TTD Executive Officer MG Gopal handed over the gold symbolically in Tirupati to SBI Chairperson Arundhati Bhattarcharya, who gave the provisional certificates.
According to a report in The Hindu, the Government Mint in Mumbai will melt the gold, and pure gold of 0.995 will be taken as deposit. For the gold deposit, SBI will bear the transportation, transit insurance, melting and refining charges.
TTD earns a collective annual interest of 70 kgs of gold on gold deposits in the aforementioned banks. In 2010, the TTD converted its interest on deposits into gold form and deposited in banks again.
On the 1,800 kgs gold deposit, TTD will earn one percent of gold as interest, Gopal said. The decorative ornaments gifted to the deity will remain with the temple, he added.
Dollar sales of Balaji by TTD would not be affected by the temple's gold deposits in banks, Gopal pointed out.
Bhattacharya said that the Reserve Bank of India (RBI) has not permitted banks to receive silver deposits. SBI accepts a minimum of 500 grams of gold from private persons. On Andhra Pradesh government's proposed rescheduling of farm loan waiver, both RBI and the state government are in discussions, she added.
Re-scheduling of farm loans will be as per the instructions of RBI, Bhattacharya stressed.
Meanwhile, Nepal Commercial Taxes Department Minister Sunil Bahaddur visited Sri Venkateswara Swamy in Tirumala on Saturday. He visited the deity along with his family members in the morning. The temple authorities had arranged a VIP treatment to the foreign dignitary.
TTD authorities revealed that 63,058 devotees visited the Tirumala deity on Friday, while on Saturday 47,940 visited the deity.