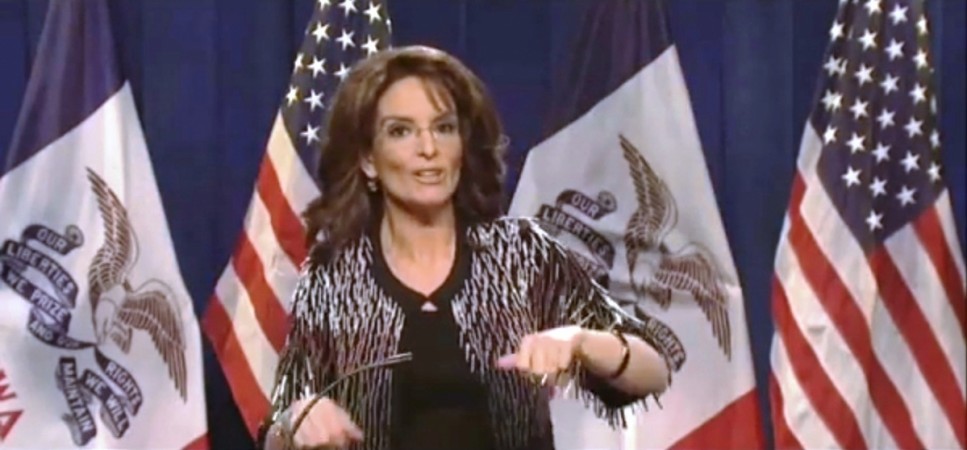 Tina Fey, the former cast member of NBC sketch comedy series "Saturday Night Live" (SNL), returned to the show last night doing her famous impersonation of former Alaskan Governor and vice-presidential nominee Sarah Palin – an impersonation she is known for doing since 2008 when Palin was the lead up to the 2008 United States presidential elections.
Accompanied by Darrell Hammond, Tina re-created the rally where the real Sarah Palin endorsed Donald Trump for President in Iowa on 19 January, Tuesday.
The rally was conducted in Iowa University where Palin addressed the audience, saying, "Are you ready for the leader to make America great again? Are you ready to stump for Trump? I'm here to support the next president of the United States — Donald Trump."
It was just a matter of time that SNL would come out with a mockery of the rally and, undoubtedly, none could have been better than Tina to impersonate Palin that she has been doing for years.
As reported by E! Online, here are some of the quirkiest quotes that Tina Fey said as Sarah Palin in last night's SNL:
1. "I'm here because America is struggling. So many of us have lost our jobs at the factory or our reality shows about Alaska."
2. "We turn on the news every morning and are shocked to see we're not even on it, because we've been replaced by immigrants like Geraldo Rivera."
3. "I'm here for all you teachers and teamsters. You farmers and charmers. Whether you're a mom or two broke girls or three men and a baby, or a rock 'N roller, holy roller, pushin' stroller."
4. "He can kick ISIS' ass, because he commands fire."
5. "Thank you, Iowa, and god bless some of the United States of America!"
6. "Guess what, America, I don't really think this guy should be president."
7. "I'm just here, 'cause he's promised me a spot in his cabinet. And I belong in a cabinet, 'cause I'm full of spice and I've got a great rack."
"Saturday Night Live" broadcasts every Saturday on NBC.