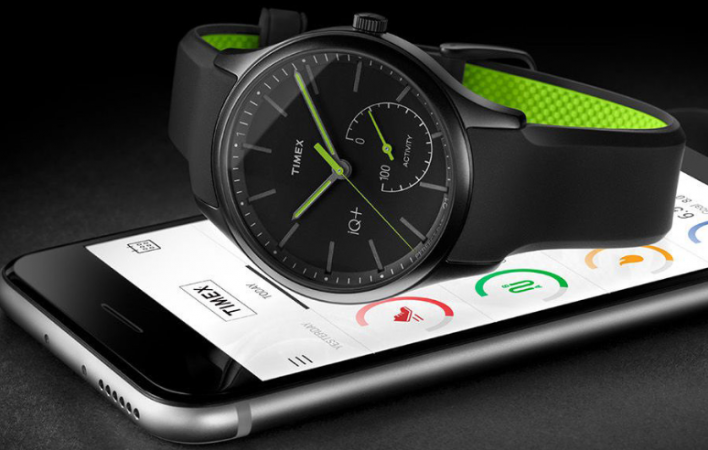 Timex expanded its wrist watch portfolio with an important entry on Tuesday, in India. The all-new IQ+ Move is an analogue watch with smartwatch essentials to help wearers keep track of their fitness with ease.
Timex launched the IQ+ Move for Rs9,995, and it can be bought from all Timex retail stores across the country. The analogue watch has a regular round-shaped dial with leather strap, which makes the wearable look less geeky compared to the other smartwatches in the market.
Timex IQ+ Move is limited to certain functions, but bags the most essential features that users look to in a smart tracker. With this, users can track their steps, sleep and calories, measure sleep efficiency and also the average length of sleep.
All this data is pushed to a companion smartphone app, which pairs the IQ+ Move with the smartphone via Bluetooth. The app lets users set pre-defined goals and watch the progress towards achieving the set goal. The app is available on both iOS and Android platforms.
The most important highlight of the IQ+ Move is that it needn't be charged regularly as in the case of a traditional smartwatch. It has a standard battery inside, eliminating the need to charge it while tracking personal fitness.
"Timex believes that its consumers do not have to give up on their style for functionality or vice versa. IQ+ is for the modern day men who demand a fit and active lifestyle and are always connected on the move. It combines modern technology with Timex's trusted craftsmanship to give consumers more than just a watch. It is an ideal fit for the men who are interested in tracking their daily progress but wouldn't want to sacrifice the beauty of a traditional watch on their wrist, a best of both worlds," Anupam Mathur, head of sales and marketing of Timex Group India, said in a statement.
At the price, Timex IQ+ Move is perfectly balanced between analogue watch and smartwatch. The new Timex watch comes in two styles, one with a silver tone case, white dial with gold tone accents and brown leather strap and another one with gray silicone strap, grey finish case, black dial and blue accents.
If you are an adventurer, there are rubber straps available for the IQ+ Move to make the watch waterproof for up to 50 meters. There's also a night light feature in the watch to be used in the dark.