Technology has made it easier to track your fitness, thanks to the extensive range of activity trackers you find in the market. Joining the ever-increasing fleet of fitness gears is Timex Blink – which the maker claims is a result of Timex's 160 years of watchmaking experience and BLINK's technological innovation.
For those unaware, Blink is an Indian consumer technology start-up, which has collaborated with the well-known watch brand Timex to bring us Timex Blink, a trendy piece of accessory to track your fitness while you go about your daily routine of life.
International Business Times, India, had the opportunity to review the newly-launched Timex Blink, which comes in two styles with a bracelet and leather straps, for a competitive price of Rs. 4,995 and Rs. 4,495, respectively.
The maker is betting huge on the tracker's SOS emergency technology, which sends instant emails, SMS and GPS location to the saved emergency contact when in need. But during our review, we came across some interesting features that go beyond the SOS feature, making Timex Blink a compelling choice for those who demand fit and active lifestyle.
Design
If a good-looking fitness tracker is your pursuit, your search ends here. Timex Blink has to be one of the finest activity trackers in the market, and it eliminates the geeky element so wearers can use it with any style.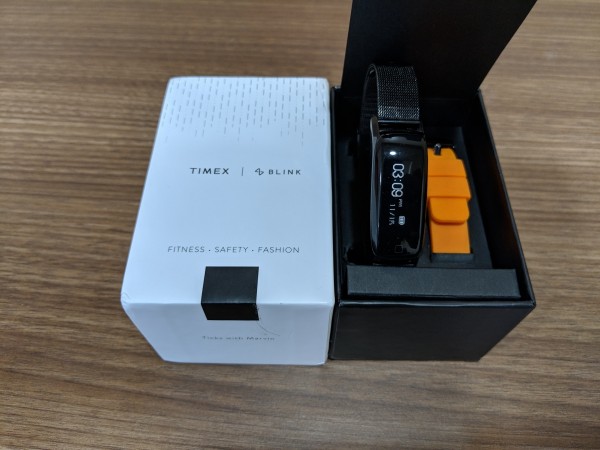 We've been using Timex Blink for a while now, and its changeable straps make it one of the trendiest trackers. The black bracelet helped us pull off this accessory with formal clothing, while a bright orange complimented our casual look. In terms of design, Timex Blink will not disappoint you.
With great design comes great comfort. Timex Blink is extremely light and you won't feel its weight most times. The adjustable straps will fit any hand. You don't have to worry about occasional splashes, as it handled pretty well in light rains and frequent hand-washes.
The 0.9-inch OLED display has a single tap function, and the active touch area is the tiny square at the bottom. The display is motion-activated, so every time you lift your wrist to see the time, the OLED display will show you the time. Tapping on the tracker will show the number of steps taken, burnt calories and distance travelled on foot for the day.
We found the display hard to read under sunlight and wished for a brighter display. But indoor usage doesn't demand anything more.
Pairing
Your Timex Blink comes with Android and iOS support – thanks to the free mobile app. But the wearable's reliance on the app is entirely dependent on the user. You'll need the app to set up your tracker before using it, by filling out your bio like name, age, weight, height and most importantly stride length (in cms), which will help you track steps more accurately.
Pairing is as simple as turning on Bluetooth on your phone, powering the Timex Blink tracker, and pairing a new device. You'll be notified on your tracker to pair, and once approved you'll be good to go.
Novice users might take a few minutes extra, but you can setup your Timex Blink in a matter of five minutes tops.
One feature we loved about the tracker is that it'll remain connected to your phone as long as the Bluetooth is on. And the data is synced in real time, and we rarely had any issue with the app's performance.
But in our case, we found some issue with the pairing after changing to a new device or unpairing and trying to pair again with the tracker. Even though the Bluetooth pairing on the phone showed no signs of error, the tracker failed to connect to the phone. It is possible Timex can fix this with a software update.
Tracking
Once the pairing is done, Timex Blink will start doing its job. Tracking steps, sleep, burnt calories, distance covered on foot and active hours are Blink's forte. Sleep tracking was on point, but the steps were inaccurate until we calibrated the stride length.
It was unclear how exactly Blink tracked Active Hours, but it seems sitting and working on a computer (in our case up to 6-8 hours) didn't count as active. So, the screenshots below show less active and more sleep hours, but we can guarantee you there's a lot of desk job involved in this profession on most days.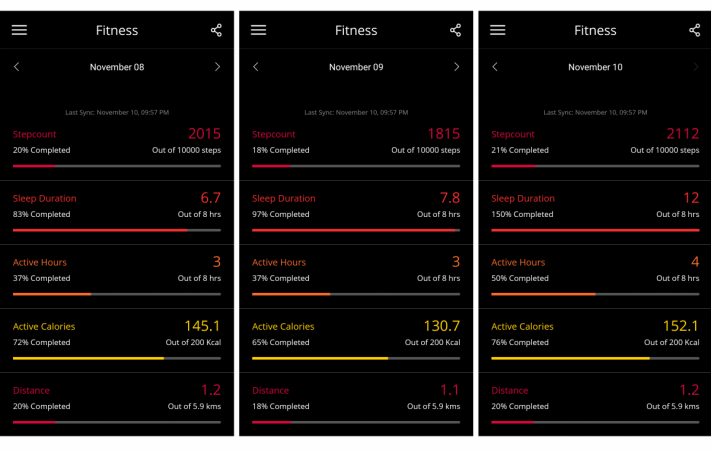 In addition to the tracking, the SOS feature works just as promised. You'll need to add an emergency contact. In order for it to work, the band should be paired with the phone at all times. In our case, we lost connection during our testing of pairing and unpairing of the tracker.

Battery life
After the design, Timex Blink's battery life is what truly impressed us. With 24/7 tracking, we were able to run the tracker for 7 days. Charging the tracker took 90 minutes, so as long as our opinion is concerned, it is a fair deal.
There's a microUSB charging port under the display covered with a rubber flap.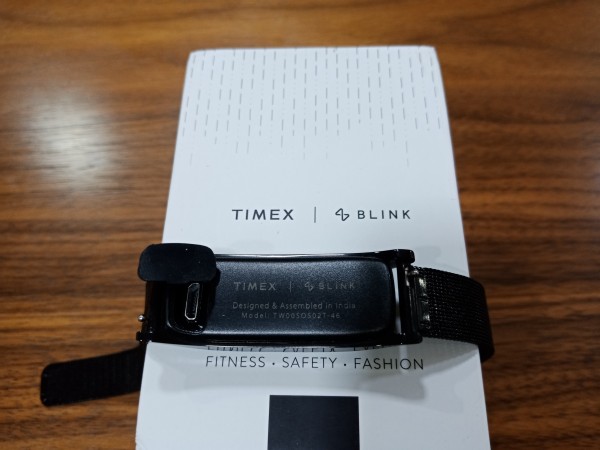 Is Blink missing something?
Timex Blink tries to cover most of the everyday fitness tracking activities but lacks a heart rate sensor. Even though we haven't been a fan of using the heart rate sensor in any of the previous trackers, it wouldn't hurt to have that feature onboard since competing gadgets in the similar and even lower price range have it.
We also noticed that the Blink is designed for your left hand. Wear it on your right hand, and the interface will not favour you. We know that because we mainly wore it on the right wrist. Timex can roll out an update and try to get the option to rotate the UI on the tracker, so users can read what's on the tiny OLED display without having to tilt the head in awkward positions.
Verdict
It all comes down to should you buy Timex Blink or not. Given the pros and cons of the Blink, we'd still favour it's a good fitness companion to have for a reasonable price. The bracelet certainly adds the winning touch to the Blink, so you'll never have to ditch your tracker the next time you put on that tux. The battery life is excellent, so charging should never be a concern. Overall, even with a few misses, we'd say the Blink has the potential to breach the top 5 recommendations for a worthy fitness tracker you can buy in 2017.