The newspaper business is all about circulation figures to lure the advertisers, and this point was further driven home by the biggest media houses in the country – The Times of India (TOI) and Hindustan Times (HT) -- who sacrificed precious news space to fight out a dirty public battle, all to claim the Numero Uno title.
The bone of contention between the two bitter rivals is the subscriptions numbers in Delhi and Mumbai, with both standing by their interpretation of figures of the Indian Readership Survey (IRS), Registrar of Newspapers for India (RNI) and the Audit Bureau of Circulation (ABC) report (July-Dec 2013).
The Mirror Challenge - In Mumbai, the Mumbai Mirror, a sister publication of the Times Group joined the fray on Thursday, putting out a front-page announcement of a 'Mirror Challenge', asking readers to 'visit any newspaper depot or distribution point across Mumbai' to see which of the two -- Mumbai Mirror or Hindustan Times -- is at the Number Two spot (TOI being No.1).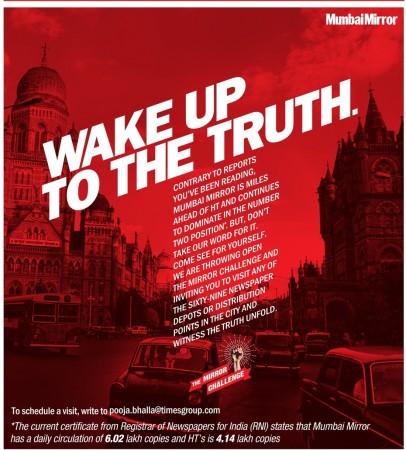 Mumbai Mirror later went on to defend its call for battle with HT in an editorial, throwing up circulation numbers and estimates to further seal the point that TOI and Mirror were much ahead in the race.
Try and wrap you head around these figures Mumbai Mirror put out – 'HT's stated circulation of 4.14 lakh copies as against Mumbai Mirror's 6 lakh copies was at the time when its price was very low. Since then, its price has shot up significantly. If one goes by the logic of price sensitive markets the hike since the last RNI is bound to hit its circulation. Our estimation is that, its present actual sales is at 2.5 lakh (based on our internal estimates), while our actual sales continue to be at 6 lakh. So forget getting close to The Times of India, HT has many miles to go before they catch up with chota bhai Mumbai Mirror.'
The Times of India Challenge - Meanwhile in Delhi, TOI accused HT of 'coming up with a claim that its circulation in Delhi NCR is comparable with that of The Times of India'. In its editorial, it hit HT where it hurts – advertisements – by claiming that '26% of HT's total circulation figures (10.6 lakh copies compared to TOI's 10.4 lakh)' is based on a 'rehashed, mini version called 'HT 2 Minutes', stating that the supplement 'carries only a small proportion of the ads that appear in the main newspaper'.
It then diligently makes a note to advertisers – 'From an advertiser's viewpoint, this means that as much as 26% of HT's circulation in Delhi NCR, in all likelihood, does not carry its ads. Moreover, the ones that do get carried might not even reach the English-speaking reader that they were originally intended for'.
'Cry-baby TOI': Hindustan Times, of course, did not take the blows lying down and came out with an animated video pointedly titled 'The eternal cry-baby, Times of India'.
The video mocks TOI by calling it a 'cry-baby' who thinks that only he knows the real figures, and finds 'IRS fishy' and 'others dumb'.
HT also indirectly accuses TOI of being behind the 'disappearance of its papers' from the market in Delhi, alleging that it is a tactic to win the 'morning challenge'.
While the two arch-rivals have been taking digs at each other for several years now, it used to be done in a more indirect, subtle manner. The battle for supremacy in the ever-so-competitive market has now brought the two giants on the streets, as the readers watch this the slug-fest in utter amusement.