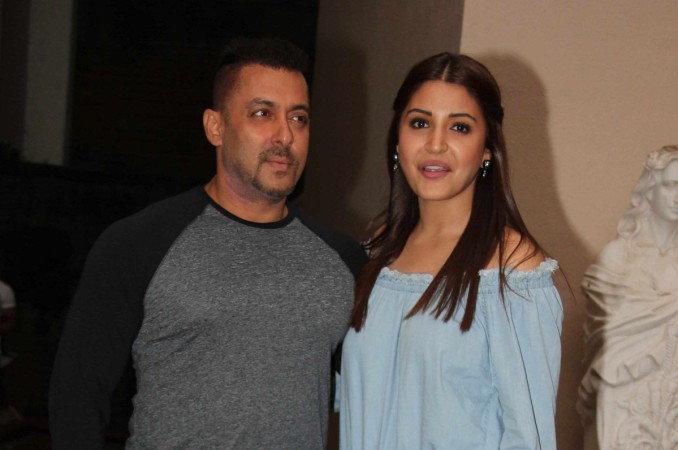 Salman Khan and Anushka Sharma are Times Celebex's top stars of July, courtesy "Sultan," a film that went on to make and break several records. While the actor maintained the top spot, his leading lady went up one slot since June.
Shah Rukh Khan went up one notch from 3 to 2; Ajay Devgn, Amitabh Bachchan and Ranveer Singh filled out the top 5 list. Priyanka Chopra went three positions up and is now at no. 2, Jacqueline Fernandez scaled the list quite a bit thanks to "Dishoom" and the buzz around "A Flying Jatt." Kangana Ranaut and Deepika Padukone are no. 4 and 5, respectively.
The index rating is based on the celebrity's box office performance and ability to stay in the news and make headlines.
Will Salman and Anushka continue to hold on to the top slots in August too?
Although, both the stars have triggered considerable buzz with their upcoming projects, August mostly belonged to Akshay Kumar and Hrithik Roshan and their mega "Rustom" Vs. "Mohenjo Daro" clash. However, this is not to say that Salman and Anushka's rankings will see a steep dip.
What are Salman and Anushka doing next?
Salman has already wrapped up the maiden schedule of Kabir Khan's "Tubelight" in Ladakh, Anushka is in Prague shooting for Imtiaz Ali's next, tentatively-titled "The Ring," with Shah Rukh Khan. The actress is excited to be working with her first ever co-star, SRK, and has some positive things to say about bagging a part in the film.
"Shah Rukh is the king of romance, he redefined love to an entire generation. His intensity as an actor and humility as a person is going to come across on screen. It's a great opportunity for me to work with the king of romance and a director, whose love stories are always so special and romantic," Anushka further elaborated.
Check the top-10 Times Celebex list (July) below:
| | | | |
| --- | --- | --- | --- |
| Actors | Ranking | Actresses | Ranking |
| Salman Khan | 1 | Anushka Sharma | 1 |
| Shah Rukh Khan | 2 | Priyanka Chopra | 2 |
| Ajay Devgn | 3 | Jacqueline Fernandez | 3 |
| Amitabh Bachchan | 4 | Kangana Ranaut | 4 |
| Ranveer Singh | 5 | Deepika Padukone | 5 |
| Akshay Kumar | 6 | Alia Bhatt | 6 |
| Varun Dhawan | 7 | Katrina Kaif | 7 |
| Rajinikanth | 8 | Shraddha Kapoor | 8 |
| Hrithik Roshan | 9 | Sonam Kapoor | 9 |
| Ranbir Kapoor | 10 | Ileana D'Cruz | 10 |