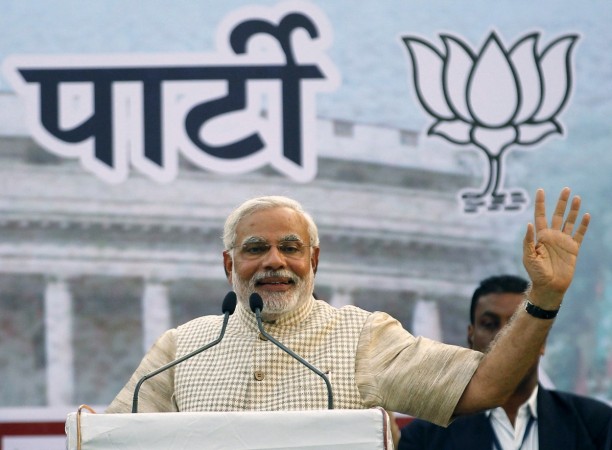 Narendra Modi was born in Vadnagar, Gujarat in a middle class Hindu family on 17 September 1950. He worked at the family's tea stall in Ahmedabad in the 1960s. Having got married to Jasodaben at an early age in a joint family, he left the house soon after to pursue his life's goals.
Modi chose the path of Rashtriya Swayamsewak Sangh (RSS) to realise his dreams. Finally on 16 May 2014, Modi became India's Prime Minister-designate, when the BJP won 282 seats in the Lok Sabha elections. Here is a timeline of the leader of the masses.
1950: Narendra Damodardas Modi was born in Vadnagar in Gujarat in a joint Hindu family.
1987: Modi, who was trained in RSS and acquainted with RSS bosses, joins BJP in Gujarat, where it had won a majority in the 1995 elections.
2001: A milestone year in Modi's life when he replaced Keshubhai Patel as Gujarat Chief Minister, following the January earthquake which killed around 20,000 people. Modi then remained the Gujarat CM for over 12 years till he entrusted the mantle to Anandiben Patel on 22 May 2014, to become the next Prime Minister of India. Modi is scheduled to take oath on 26 May.
2002: On 27 February, riots broke out in the Godhra town, following a train fire where over 50 Hindu pilgrims died. Modi's opponents accuse that the state government under Modi failed to do enough to stem the riots. It was even alleged that Modi encouraged the riots. Maya Kodnani, one of the ministers in Modi's government, was sentenced to 28 years for leading the riots. The sentence came in 2012, 10 years after the incident.
2004: India's Supreme Court reopens 2,000 cases pertaining to the 2002 riots incident.
2005: The US denies visa to Modi for his alleged violation of religious freedom. Modi described the US action as an insult, and demanded the Indian Union government to take up the issue.
2008: In a major step in his developmental programmes, Modi invites Tata Motors to build a factory in Gujarat, to manufacture the low cost people's car Nano.
2012: Modi becomes the Chief Minister of Gujarat for a record fourth term on 26 December, after BJP won 115 seats out of 182 in the state's Assembly election under helm. In October, the UK ends the diplomatic boycott it had imposed on Modi, for failing to prevent the infamous 2002 Gujarat riots.
2013: A crucial year in Modi's political career as he is elected by BJP as its prime ministerial candidate for the 2014 Lok Sabha elections. Earlier in the same year, Modi is appointed BJP's Election Campaign Committee Chairman for the same elections.
2014: Modi led BJP to a landslide victory in the elections as the party's prime ministerial candidate. BJP alone got 282 seats for the majority in the Lok Sabha.