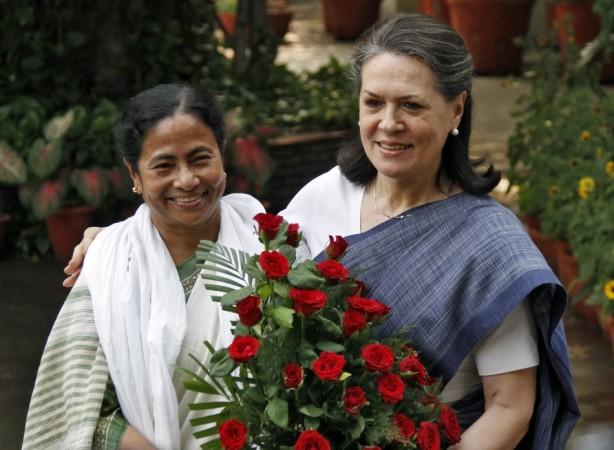 They are still holding on to each other but the crack is obvious. Mamata Banerjee's Trinamool Congress has become sort of a pain in the neck for the Congress-led UPA government with the former openly going against some bold steps taken by the Congress.
The latest fiasco following the hike of rail fare by Railway Minister Dinesh Trivedi in his Railway Budget is a clear indication that the TMC is not going to buy anything that go against its wishes. Angry Mamata had faxed Prime Minister Manmohan Singh to sack her own party member Trivedi for hiking the rail fares.
The Congress party is expected to give in to the demand of Mamata. Trivedi is expected to be sacked after Finance Minister Pranab Mukherjee presents the Union Budget in the Parliament. Mukul Roy, Minister of State for Shipping, is expected to take his place.
The TMC, which has 25 MPs in Parliament, has let down its ally Congress several times in the past. It openly criticized the Congress when the petrol price hike happened. The winter session of the Parliament was paralyzed for a few days with opposition parties opposing the move of the government to allow foreign direct investment (FDI) in retail sector. The TMC too opposed the move. Mamata and her party also opposed Home Minister P Chidambaram's anti terrorism proposal National Counter Terrorism Centre (NCTC).
Going by the shaky relationship the Congress and TMC have been sharing so far, it looks like the former will be forced to change the equation if it is pushed a little further.
The Congress has sent out a signal that the party is in good terms with Samajwadi Party in Uttar Pradesh. It sent Parliamentary Affairs Minister Pawan Kumar Bansal and senior party leader Motilal Vora to the swearing-in ceremony of UP's new Chief Minister Akhilesh Yadav.
Congress president Sonia Gandhi sent letters to SP Chief Mulayam Singh Yadav and his son Akhilesh Yadav, expressing her regret for not attending the function. She sent her best wishes to the new CM too.
Going by the moves of the Congress, it looks like the party is keeping its doors open for SP in case the TMC become too demanding and hinders the government from carrying out its functions.
Is it time for the Congress to end the ties with the Trinamool?