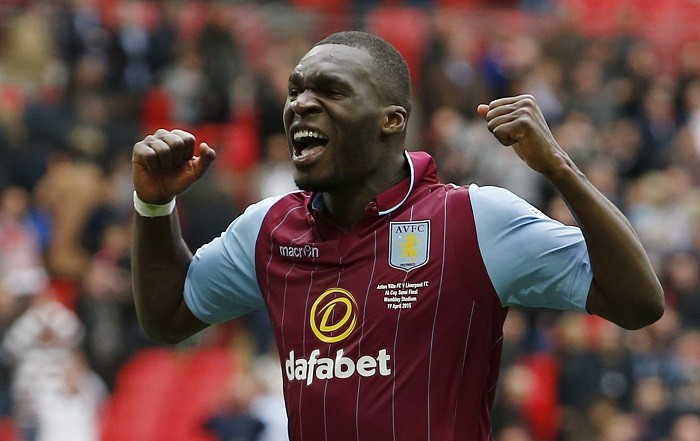 Aston Villa manager Tim Sherwood is not at all pleased with Liverpool eyeing their influential striker Christian Benteke all summer.
Reports were inundated last week that the Reds were willing to trigger the £32.5million buyout clause of the Belgium International and swoop for the player from Aston Villa. This has come as a worrying development for Sherwood, who says that the club are adamant on keeping the striker this summer.
Sources have now told ESPN that the Anfield side are sizing up another bid for the player - now that the funds have arrived following the big-money sale of Raheem Sterling to Manchester City.
The Reds are hoping to negotiate a lower fee for the striker, and Sherwood is not at all happy with that. Aston Villa have earlier stated that the only possibility of Benteke leaving Villa Park this summer is if the striker's buyout clause is met.
"I looked the other day. I think they've got six or seven strikers at the club now. I'm not sure how many they actually need," Sherwood was quoted by ESPN.
From the likes of Mario Balotelli to Fabio Borini, and Rickie Lambert to Daniel Sturridge - LFC actually have a lot of strikers at their disposal currently. But despite that, Brendan Rodgers has zeroed in on the Belgian as his top target this summer.
Liverpool lost their attacking tooth following the departure of star forward Luis Suarez to Barcelona last summer, and Rodgers' side has since struggled on the attacking front. They recorded just 52 Premier League goals last season – the lowest total in the top-seven.
And with Balotelli, Lambert and Borini having failed to impress last season, the situation gets more complicated. Sturridge also missed most of last season through injury.
Benteke might be willing to leave Villa Park this summer, but the Midlands club are refusing to accept a cut-price deal, and want the clause to be triggered.
"We know Christian is a very good player and we want to keep hold of him. If someone matches that buyout clause, there's nothing we can do about it. But until that happens he's an Aston Villa player and we're all very pleased about that," Sherwood continied.
"I think Christian is worth more than £32 million. But we don't want to sell him. We don't want the £32 million. It's very hard to spend that sort of money. When you're losing a player and trying to bring in someone to subsidise it, it's almost impossible."
Benteke arrived at Villa Park in August 2012 for a fee believed to be around £7m. Since then, he has been quite consistent for Villa, as he has notched up 49 goals in a total of 101 games for the club.
His recent performances in the Premier League 2014-15 season also attracted admirers, as the striker became the topscorer for the club, having scored 13 times from 29 Premier league appearances.
He also scored twice in the FA Cup, and was awarded the Premier League Player of the Month in April this year.
The Reds, meanwhile, have already paid out over £40 million, in securing the services of Roberto Firmino, Nathaniel Clyne, Joe Gomez, James Milner, Adam Bogdan, and Danny Ings, this summer.