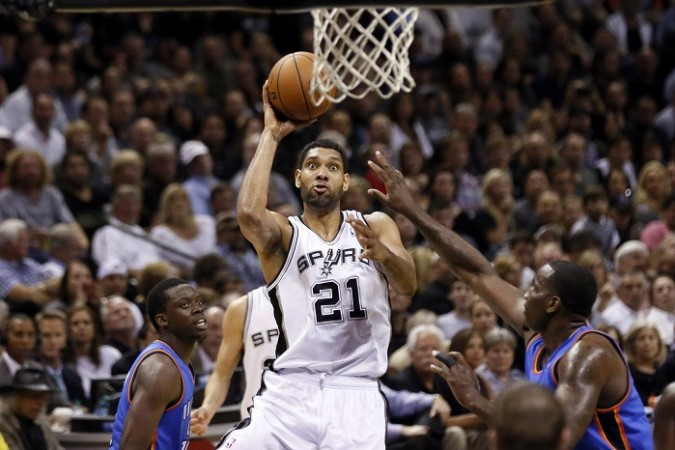 One of the glorious chapters in the NBA history has come to an end. Tim Duncan, who won five championships with the San Antonio Spurs, will no longer entertain fans with his simple, yet powerful moves, as he announced his retirement on Monday.
Though he had not hinted too much about his retirement plans in the past, fans and experts were expecting such an announcement from the Silver and Black legend.
"The Big Fundamental" played in the NBA for 19 years, representing only one team -- San Antonio Spurs. Starting his career as a 'star in the making', Duncan caught the attention of fans in his first year, averaging 21.1 in the regular season, and helped the team win the NBA title in his second year only in 1999. The star bid adieu, just one year short of two decades in the NBA, with a career average of 19 points and 10.8 rebounds per game. The power forward also featured in 14 All-Stars matches.
However, Duncan's performance last season was below par, with the big man scoring just 8.6 ppg in the regular season, and 5.9 in the playoffs.
Duncan's game was pretty simple, but he did what he needed to do, stepping up whenever required. It was his footwork which stood out and the way he used his power to score points in the paint, made him a great force.
One will not be able to forget his combination with point guard Tony Parker.
Duncan played an important role in making San Antonio Spurs one of the greatest NBA teams in the last two decades. The player, along with coach Gregg Popovich, were influential figures in making this team a dominant force in the NBA.
Though he will not play for Spurs anymore, his love for San Antonio could make him a regular spectator at the AT & T Center, and he will be eager to see his team win in the future as well.
After having rubbed shoulders with some of the great stars in the game, his teammates and opponents have taken to Twitter to thank Duncan for the value he added to the NBA.