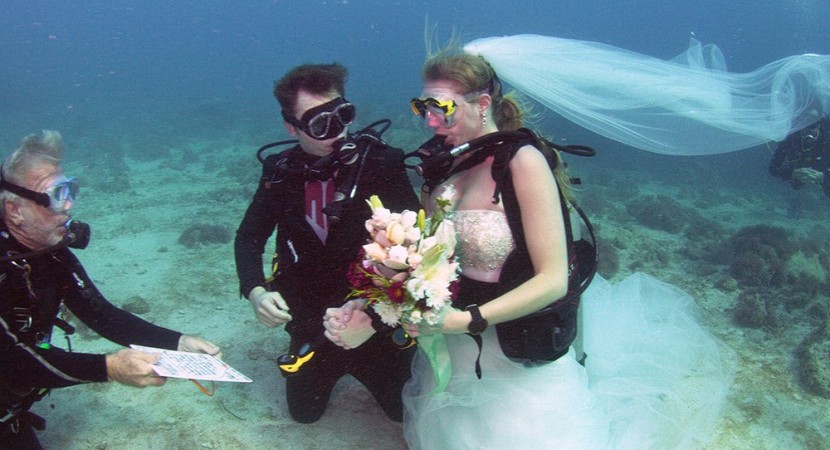 Everyone wants their wedding day to be special – something that they will remember till their last breath. But, a newly-wed couple took a step extra to make it adventurous as well.
A British army sergeant and a former diving instructor, who were in a four-year courtship got married underwater in the Florida Keys national marine sanctuary.
The couple used an underwater tablet to exchange wedding vows on Thursday, besides Molasses Reef off Key Largo, Associated Press in Key Largo, Florida reported.
The couple met at Amoray Dive Resort in the Keys in 2013. Thomas Mould, of Leicester, England, travelled on an army adventure training dive trip to the place, where Sandra Hyde worked as an instructor.
They connected, fell in love and for years travelled between England and the US to be together before deciding to make it official.
Initially, they planned to marry in the summer in an old English church. Later, Mould and Hyde decided to have an underwater wedding, as it would be more appropriate and cost-effective. Mould and Hyde became husband and wife where they first met — the water.
Nothing really changed because of the venue – the bride wore a beautiful white gown and the groom wore a tux but yes, both donned scuba gear as they exchanged their vows with the help of an underwater tablet.
Not just that, the wedding included many of the other traditional staples, including exchanging of rings, a bouquet toss and 'swimming' hand-in-hand together. The newly-wed couple also kissed underwater after signing off on their wedding vows.
Mould and Hyde plan to continue their honeymoon in the Florida Keys and then reside in England.