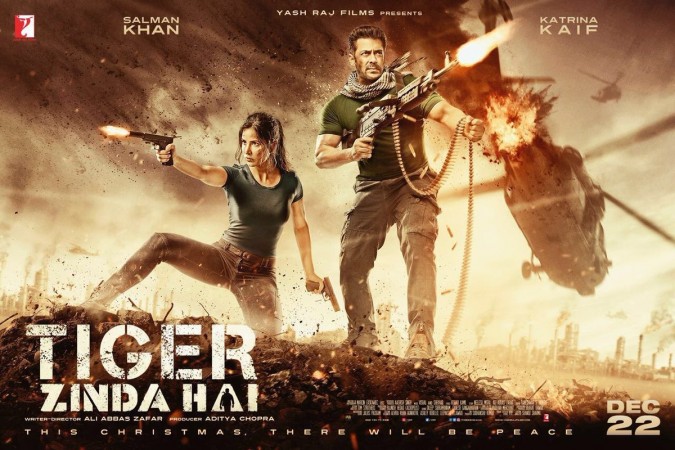 The makers of Salman Khan's Tiger Zinda Hai are supposed to release the trailer of the film on Tuesday. However, one person has claimed to leak the trailer of the movie tonight itself.
Yash Raj Films announced that the much-awaited trailer of Tiger Zinda Hai will be out on November 7. Fans are eagerly waiting to catch a glimpse of the Salman and Katrina Kaif-starrer.
But, Umair Sandhu, who claims to be a critic and member of the censor board, posted on social media that he would release the first trailer of Tiger Zinda Hai on November 6 night itself.
"Excluisve trailer of #tigerzindahai is coming on my Instagram tonight. So follow me now #SalmanKhan fans," he posted on Instagram and Twitter on Monday evening.
He also stated that the censor board has passed the trailer of the film without any cut, and predicted it to be Salman's biggest hit. "#TigerZindaHaiTrailer passed censor test without any cut & response is outstanding! @BeingSalmanKhan is coming with his biggest hit ever," he tweeted.
However, the most noteworthy part of his tweets is that Umair claiming to release the trailer on social media even before the makers. No critic or censor board member has the right to release any film trailer before the scheduled time set by the makers of the movie.
In such a scenario, if this person would leak the Tiger Zinda Hai trailer tonight, how would the makers of the film going to react to it? Umair is one of those critics who claims to review the movies from UAE one day before the release in India.
His Twitter bio mentions him as, "Film & Fashion Critic at South Asian Cinema Magazine UAE, UK, India & Pakistan. Movies Marketing Expert. Member of Censor Board." It will be interesting to see if Umair would actually leak Tiger Zinda Hai trailer tonight or if it is just a stunt to win followers on social media.
Directed by Ali Abbas Zafar, Tiger Zinda Hai is a sequel of Ek Tha Tiger, which was a big hit. The buzz around the film is very high, and it is expected to be one of the biggest blockbusters of 2017. This will bring back the much loved pairing of Salman and Katrina. Tiger Zinda Hai is slated to be released on December 22.