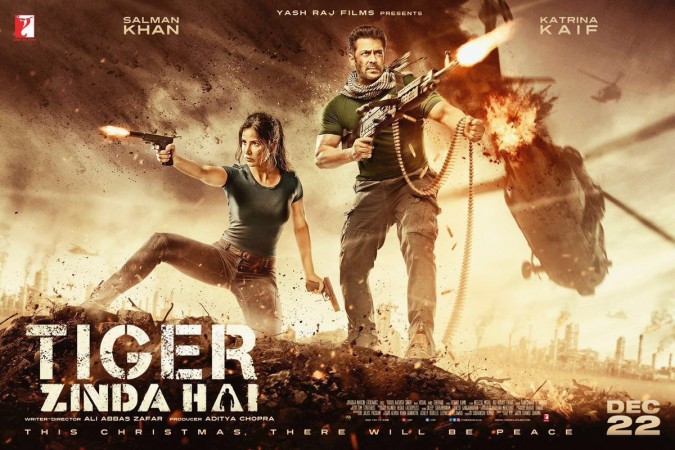 After the posters of Salman Khan and Katrina Kaif-starrer Tiger Zinda Hai were released, fans are eagerly waiting to get a glimpse of the film's trailer. In the meanwhile, a fake trailer landed on YouTube recently and it went on to become a hit!
Tiger Zinda Hai is one of the most awaited flicks of this year, and hence Salman and Katrina fans are extremely excited to know about the release date of the film's trailer.
Although the trailer of Tiger Zinda Hai is yet to be out, a fan created a trailer of the movie himself and posted it on YouTube. It has received over 4 million views. Titled as "Tiger Zinda Hai Trailer Official 2017 – Salman Khan Katrina Kaif Eid FanMade", the video is a mix of Ek Tha Tiger scenes and some sequences from Hollywood movies.
A search for Tiger Zinda Hai trailer on YouTube brings this video on the top. Published just two months ago, the fake Tiger Zinda Hai trailer has garnered millions of viewers, giving an idea of the excitement among fans regarding the movie.
Many of the viewers clicked on the video taking it for a genuine one. Once they realises it as fake, they left comments cursing the person who posted it. However, some appreciated the creator of the video praising the way it was presented, even though it was a fake one.
When a fan-made trailer of Tiger Zinda Hai could garner over 4 million views, one can imagine what kind of response the actual trailer of the movie would get once it is released.
Directed by Ali Abbas Zafar, Tiger Zinda Hai is a sequel of the hit movie Ek Tha Tiger. The makers of the acting flick have been teasing fans with posters and stills from the movie.
The movie will bring back the hit pairing of Salman and Katrina back on the big screen. Slated to be released on December 22, Tiger Zinda Hai is being expected to be one of the biggest blockbusters of 2017. Watch the fan-made trailer of Tiger Zinda Hai here: