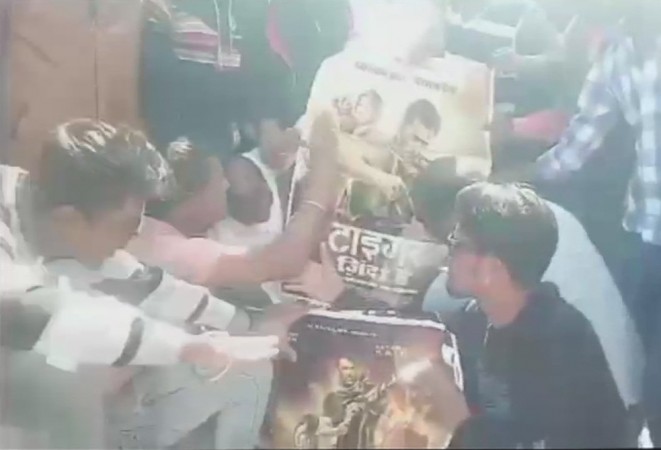 A mass protest was carried out on Friday (December 22) against Salman Khan's recently-released film Tiger Zinda Hai over allegations that Salman had used derogatory language against Scheduled Castes on a TV show.
Members of the Valmiki community vandalised and burned the posters of Salman's movie at a cinema hall in Jaipur, Rajasthan.
A complaint was filed against Salman and Shilpa Shetty a little more than a week ago for reportedly uttering the word "bhangi" on a dance reality show. When Salman visited the show to promote his film Tiger Zinda Hai, he used the word to describe his dancing skills while Shilpa used the word to describe how she looks at home.
The word is used in a derogatory sense to denote people from Scheduled Castes.
The use of the word by Salman and Shilpa irked the members of the Valmiki community, who lodged a police complaint against the two and sought action against them.
Valmiki Samaj Action Committee Delhi Pradesh shared a copy of the complaint on their Facebook page.
The Raj Thackeray-led Maharashtra Navnirman Sena (MNS) had a few days ago reportedly warned multiplex-owners in Mumbai and other parts of the state against screening Tiger Zinda Hai. The organisation told the theatre owners to screen the Marathi movie Deva instead of the Salman Khan-
starrer.
On the other hand, the Ali Abbas Zafar directorial opened to packed houses, witnessing maximum footfalls at cinema halls in many parts of the country.
Tiger Zinda Hai, which was released across 4,600 screens in India and 1,100 screens overseas, has been made with a budget of Rs 150 crore (Cost of Production - Rs 130 crore, Prints & Advertising - 20 crore).
The movie is expected to earn a whopping amount on its first day and continue the successful run over the weekend, cashing in on the Christmas holiday season.