Salman Khan and Katrina Kaif starrer Tiger Zinda Hai is set to release on December 22 in India and other countries. However, it has hit the screens in the UAE and the response is quite amazing.
The audience loved the movie, in which Salman and Katrina are seen performing high octane actions. Also, the chemistry between the two touched hearts.
While Salman's action sequences were the highlights of the movie, Katrina proved that she is not only meant to dance but can also be tough on-screen. These factors have impressed the critics and they have a lot to say about the movie and the actors' performances.
Bollywood celebs have also loved the movie and shared their response on social media. Looking at the reviews, Tiger Zinda Hai's opening collection is set to rule the box office.
With so much craze around Tiger Zinda Hai, the movie will likely beat Sultan's opening collection, which was Rs 36.54 crore net at the domestic market.
Tiger Zinda Hai is inspired by real-life events when India's diplomatic corps with some possible help from the intelligence agencies pulled off the secretive rescue of 46 Indian nurses who had been taken hostage by the Islamic State group in Iraq.
In the movie, Tiger attempts to rescue 25 Indian nurses held captive by a terrorist organisation in Iraq.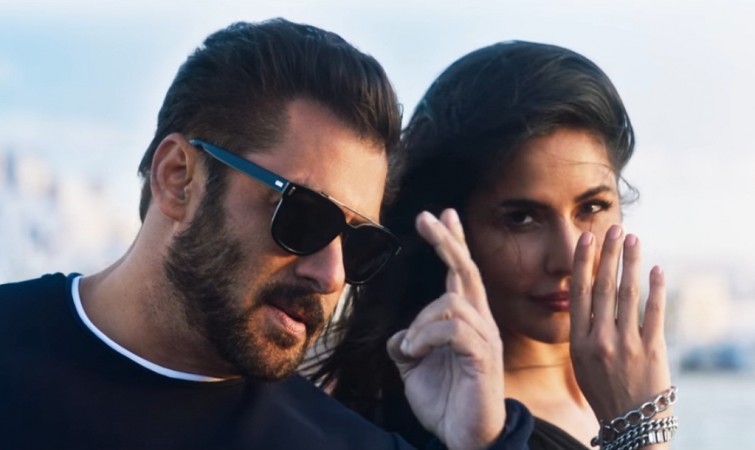 Also read: Tiger Zinda Hai movie review by International Business Times, India
Take a look at what Bollywood critics have to say about the movie:
Saibal Chatterjee of NDTV said: "This film simply isn't interested in achieving any balance. The emphasis is unwaveringly on Salman the saviour. Katrina, fetching but flimsy, is compelled to take a backseat. Mercifully, the principal antagonist Abu Usman, played by Iran-born, UAE-raised Sajjad Delafrooz is no pushover: he makes his presence felt in no uncertain terms."
Lasyapriya Sundaram of Times of India said: "With such a premise, the storyline needed to be far more compelling and the editing much tauter. Needless to add, a lot of sequences defy logic, but at the same time, there are many moments that will leave Salman Khan and action film fans impressed."
Umesh Punwani of Koimoi said: "An event for Salman Khan fans, Tiger Zinda Hai is surely the most entertaining fare of 2017. Salman Khan is everyone's Secret Santa this season gifting one enjoyable movie. Thank you, Ali Abbas Zafar!"
Shubhra Gupta of The Indian Express said: "Tiger squares up with a pack of wolves, and commandeers a horse, and they are all left standing. Oh, and he also sheds his shirt: it is one of Salman's most effective shirtless moments. The boys behind me cheered lustily. Bhai is in his place, and all's right with the world."
Ananya Bhattacharya of India Today said: "The film has logical loopholes the size of craters. But a person choosing to watch a Salman Khan show might already be aware of that. Don't analyse, don't nitpick, don't involve logic; and you are sorted. There are many seeti-worthy moments in Tiger Zinda Hai."
Siddarth Srinivas of Firstpost said: "Go watch Tiger Zinda Hai if you're a fan of large-scale action entertainers, with probably just the right amount of logic. Salman Khan has well and truly arrived (again) with a potential blockbuster that has enough to keep you pinned. Good fun while it lasts."
Manjusha Radhakrishnan of Gulf News said: "Watch this if you are in the mood to see a stoic, stone-faced swashbuckling superhero, aka Salman Khan, and some supremely well-executed action sequences. Don't go looking for soul, though."
Here's the celebs review:
Director Ali Abbas Zafar delivers an eminently watchable film, no two opinions about it... Final word? #TigerZindaHai delivers what it promises: King-sized entertainment... Get ready for the Tsunami at the BO.

— taran adarsh (@taran_adarsh) December 22, 2017
#Tigerzindahai review-It is the most epic form of rubbish that I have seen in my life, at moments you will feel prem ratan dhan payo would have a better sequel than this movie. Salman sucks big time,cousins made me watch such rubbish this time, would never watch Sallu films again https://t.co/Guqb7B0zTk

— aditya singh (@filmmagnate) December 22, 2017