You have seen him in his menacing avatar of Rajveer Singh in Shoojit Sircar's socio thriller Pink. You have seen him in a boy-next-door avatar in Gauri Shinde's Dear Zindagi. And now, you will see him doing high-octane action sequences in Salman Khan and Katrina Kaif-starrer Tiger Zinda Hai. After TZH, he will also be seen in hockey player Sandeep Singh's biopic alongside Diljit Dosanjh and Taapsee Pannu. He is Angad Bedi, who has come out strongly after going through his own share of struggles in the Hindi film industry as an outsider.
In an exclusive conversation with International Business Times, India, Angad spoke at length about his upcoming film, his experience working with the likes of Salman, Katrina and director Ali Abbas Zafar and how his career skyrocketed after Pink.
After Pink, you landed a leading role in web series Inside Edge, and now Tiger Zinda Hai. How does it feel to bag so many things in such a short span of time?
It's a very satisfying feeling when big makers like Ali Abbas Zafar, Shoojit Sircar, Gauri Shinde, Farhan Akhtar and Ritesh Sidhwani consider you to be a good fit for a role in their films. It's a good feeling working with such big names in the industry and their production houses like YRF and
Dharma Productions. This is something I always wanted. People have a lot of respect for their work and the kind of stories they have done in the past. I am getting good work and just trying put my best foot forward.
You will also be seen in your big release Tiger Zinda Hai. Tell us about your role in the film.
I can't tell you much about my role right now but what I can tell you is that I play a RAW agent in Tiger Zinda Hai. He is someone who is very swift and agile and knows his job very well. He is well-trained and very sharp in his thinking. He has a very positive attitude towards life.
I am there with Salman Khan throughout the film. And the kind of response that Tiger Zinda Hai's trailer has received is beyond everybody's imagination. I think Ali Abbas Zafar has cut a phenomenal trailer. At the end, it's a Salman Khan film and fans across the country are going to
flock the theatres no matter what. And if people are watching me on the silver screen because of Salman, there can't be any good feeling than working with a person of such a great stature. I can say that I have worked with two big pillars of the Hindi film industry - Amitabh Bachchan and
Salman Khan who run the industry on their broad shoulders. And the confidence that I've got from Pink will now pay off in Tiger Zinda Hai.
When you work with a big superstar or a filmmaker, you are bound to get a bit of share of their audiences love too. I really liked my character in Tiger Zinda Hai when it was narrated to me since it is very different from the characters that I've played before. It is good that makers are seeing
me someone who can be diversified in different roles. Now I am just eagerly waiting for the release of the film and acceptance from the audiences. People are going to come and watch it for Salman but if I get a little share of their love, I will be fortunate.
How difficult or easy was it for you to do perform high flying action sequences in the film?
There is nothing like easy as such in life. You have to work hard and learn everything that comes before you. To become swift and carry muscle weight and think like a RAW agent, you have to learn everything. You have to be good not just with the guns but also with bombs, fights, tackling
and taking down your opponents. So I had to go through a complete prep to be and look like a RAW agent on-screen. I learned kick-boxing, how to perform action, how to hold a gun and what goes on to make a bomb, you have to consider all these technicalities to look authentic when you
are in front of the camera. Hollywood action director Tom Struthers, who has worked on films like The Dark Knight Rises and X-Men: First Class, and others were there to take care of all the high octane action sequences in the film.
Were you intimidated while working alongside Salman and Katrina?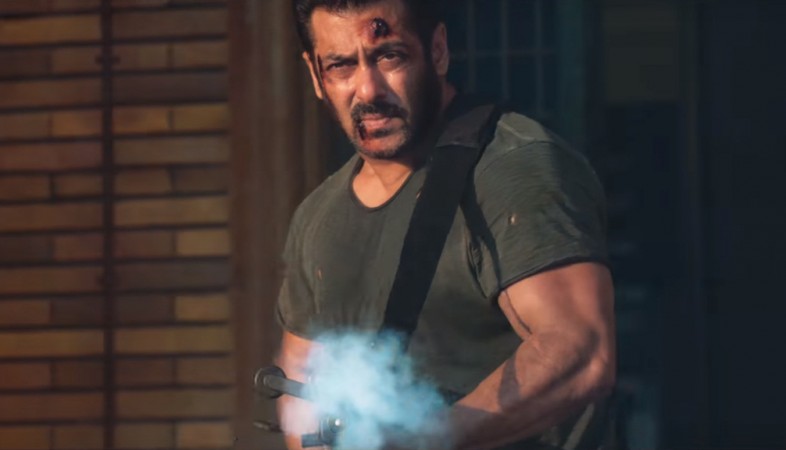 No. Not really. Salman bhai is a very accommodating person. I've known him for many years now. This is the first time I got the opportunity to work with him. He is a great co-star to work with. He helps you a lot with your lines, tells you how you can bring out the character alive on screen. So he takes a good care of his co-stars also. And he makes you very comfortable on the sets you know. If he likes you, he takes you instantly. It's such very good feeling. He is unlike any superstar. He is a very earthy man with limited needs. He lives life like a normal human being that is what I like about him. What are you eating, what is your diet, what projects are you taking up, he gets completely involved in you. I feel very lucky that I found a father figure in him on the sets. He has his own views and takes on the thing that I always take into consideration. He has worked for more than 29 years in Bollywood which is a really big thing.
Katrina is a hardworking person. She gives more than her 200 percent in whatever she does. She has earned a name for herself in the industry. She is committed and determinant and someone who always wants to learn something new. She rehearses her lines over and again and gets herself
completely submerged into her character. We got to spend a lot of time together on the sets. We feel that they are very big superstars but at the end, they are very down to earth persons in reality. You will come to know about her hard work when you watch her in the film. From doing flips to
firing bullets and pinning down her opponents, she has done everything in the film.
If you get a chance to romance Katrina in a film, would you be nervous?
It's very simple. It depends on what kind of role is it. The great thing is that a certain kind of comfort level has been developed between us while working on this film. I know her, she knows me. When I first met her, she complimented me for my work in Pink and said, "Oh you were phenomenal in Pink". Because of Pink only I've got recognition and it's a great honour for me that she has seen the film. So I'll be glad if I get a chance with her again.
Pink has been a landmark film in your career. Tell us how it changed your life.
I want to give full credit to Shoojit da. I thank him for placing his trust and confidence in my abilities. He only offered me Pink and said I want to cast you against Amitabh Bachchan and how you play the character, we will take it forward from there. And because of Pink, people know me in
the industry now. I started getting good work. I got Shaad Ali's film, Inside Edge, then Tiger Zinda Hai happened. So this is how it works. If you keep on working and playing different roles, filmmakers will obviously start noticing you and your work. In fact, I am willing to show more and
more work to the people in the industry and for me, this thing is very important in my life.
You have gone through your own set of struggle in the industry. What do you feel about star kids who get launched in Bollywood?
It's actually a myth. Star kids also go through their own set of struggle in the industry. It's true that they get their initial start very quickly in their career but there is a certain amount of pressure that keeps building upon them at every moment. Basically, star kids are like products. They get good launchpad backed by a good PR machinery but audiences are the biggest critics who decide the fate of an actor. So, a lot of things run through your mind. It doesn't matter if you are a son or a daughter of a big superstar or you have a good filmy background, the only thing that matters is the acceptance from the audiences. So their struggle is on a different level altogether.
Like several other actors, I am also an outsider. My father Bishan Singh Bedi has been a part of the Indian Cricket team. So, my hard work is mine. I have been in a position where I had nothing to prove to anybody except for myself. But star kids have a lot riding on them. And a lot more you know. We don't say that star kids get movies but there are only a few who have survived in the industry only because of their talent. Sonam Kapoor has Neerja film behind her, Ranbir Kapoor has such great body of work behind him. See how Ranveer Singh has been all over the industry with his hard work. So eventually only your talent keeps you on the top. Look at Tiger Shroff. These actors deserve to be there where they are right now. And Ranbir's range of work has been so beautiful. Look at Rajkummar Rao, being an outsider, he has been consistently doing some fabulous work in his movies after struggling for many years. So eventually, every actor gets his/her own share of success. Be it sooner or later, opportunities come knocking at your doorsteps.
Being an outsider, did you ever face casting couch or met people like Harvey Weinstein in Bollywood any point of your career?
Fortunately for me, I have never faced casting couch. I have gone through many good casting directors. Mukesh Chhabra, Nandini Shrikent, Shano Sharma, Honey Trehan, newbies like Abhishek and Anmol Ahuja, Shruti Mahajan who casts for Bhansali Productions, there are well-known names in the industry who are doing a great job in casting actors in their films. I just feel that industry has become quite professional in today's time. So I have never been in any situation like this. And I am grateful that I've been blessed by the almighty that I have worked with only good people.
I just feel that you take the right route. If you meet any casting director and show him your body of work and if they feel you fit with them then they push you ahead to the makers. That's a process which takes place in Hollywood as well. I feel very pity for those who have faced issues like casting couch. Fortunately, I haven't faced it so I can't really comment on it. So I have been kind of happy with my journey I had so far. It's completely a different thing if you miss out on any film to another actor unless you become an option. Sometimes it works in your favour sometimes it doesn't. But that's ok. It is a part of life.
So, tells us how was your experience working with Ali Abbas Zafar?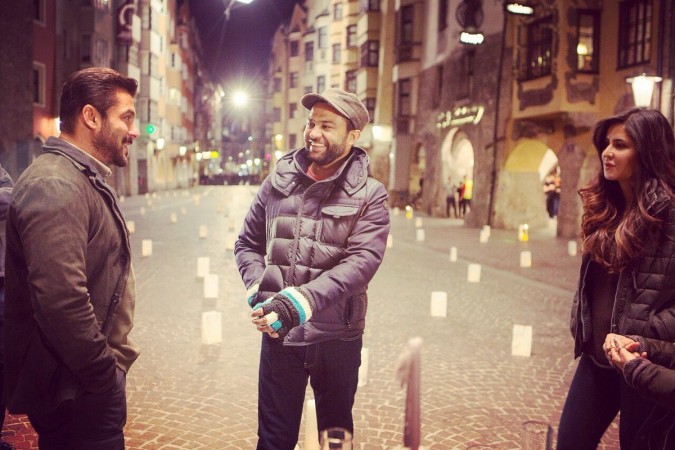 Ali Abbas Zafar is one of the few names in the industry who know their work really well. He has the ability to make a strong script, to deliver it commercially and at the same time, he makes sure that all his characters are shown very well on-screen with those candid close-ups and long shots. I feel he is one person who is fearless in showing his work on-screen. And that's what I love about him. He balances his characters so well that everybody looks good on their part. He has assisted some of the big names in the industry like Kabir Khan and Shaad Ali. He is the best director in the industry who has great stories and good storytelling. He captures each and every expression with so much ease that gives you larger than life cinematic experience.