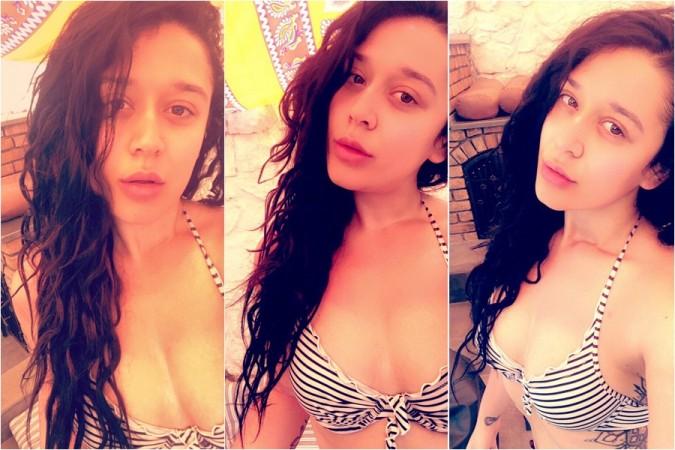 Krishna Shroff, daughter of Jackie Shroff and sister of Tiger Shroff, has once again taken the internet by storm with her stunning bikini pictures on her Instagram.
The lady, who is an internet sensation, uploaded a couple of pictures in which she appeared in a black and white striped bikini sporting wet hair after taking a dip in the swimming pool. And there is no doubt that the girl has set the temperature soaring with her electrifying beauty and was seen oozing hotness all over the social media.
In another post, water baby Krishna was seen beating the heat wearing a black bikini in a pool. She flaunted a tattoo on her back, just below her right shoulder.
Krishna has time and again grabbed the maximum attention thanks to her bold photoshoot which had done with her photographer friend in the past. Currently, she has 349k followers on Instagram and keeps giving an insight into her luxurious life.
While her fans never fail to admire for her beauty, there are also haters who criticize her for her bold pictures. Even this time, the lady got trolled by a few Instagram users who called her a replica of her brother and actor Tiger Shroff. But her well-wishers made sure that trolls won't get away with their hate-comments. They slammed them hard in return.
Many asked Krishna when she would be entering Bollywood while many praised her for treating them with her sizzling looks.
Krishna recently made headlines when she went topless for a photoshoot done by Divina Rikhye who shared the pictures on her Instagram page.
In 2015, Krishna broke the internet by posing topless and was seen covering her assets with a towel. And soon, she became a talking point on social media.
"I just have one issue. With the word 'topless'. I think that's ridiculous because to be topless, you have to show nipple. I just think that it's a little backward when it comes to things like this. No offense to anyone but people today can't really be free or express themselves however they want to because of the amount of judgment that happens these days. I just feel the society is a little backward," Krishna told DNA when asked if she was offended by media attention.