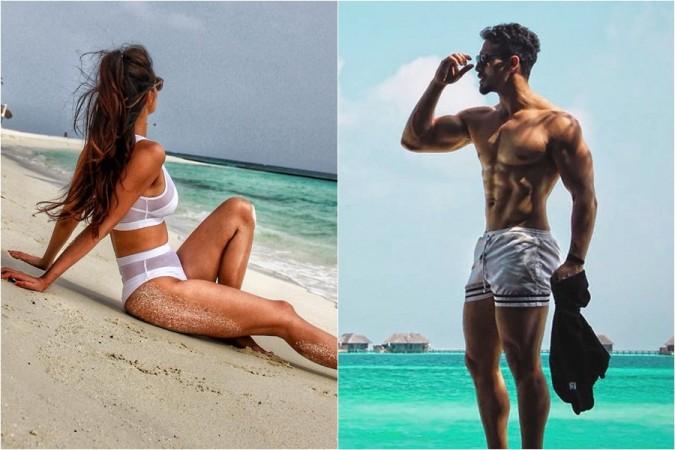 Tiger Shroff and Disha Patani, who have always been tight-lipped about their rumored relationship, have finally got engaged in a private ceremony. The couple exchanged rings in the presence of their respective family members and close friends.
Both the families have been planning the engagement for a very long time now. In the past few days, Tiger and Disha were spotted at a family dinner where they had zeroed in on the engagement date.
Sources reveal that it was Hrithik Roshan who played matchmaker for Tiger and Disha. In fact, the Krrish actor was the one who convinced Jackie Shroff and Ayesha Shroff to give their nod to the relationship.
Confirming the news, Hrithik Roshan said: "I am extremely happy to have played a cupid for Tiger and Disha. I have always been fond of their loving chemistry. They were struggling to convince their respective family members. I spoke to Jaggu dada and persuaded the Shroff family to make their relationship official with an engagement."
He added: "Tiger and Disha's parents were skeptical about the engagement since the two had just begun to make their journey in the Hindi film industry."
The couple has now decided to get married next month in Sri Lanka in an intimate affair. The wedding will be followed by a reception in Mumbai for their friends in Bollywood.
A separate reception party will be organized at Hrithik Roshan's house in Mumbai where the couple will play host for the guests.
When Tiger and Disha were asked about their secret engagement, the couple said: "We always wanted to take our relationship to the next level but we were facing difficulties. But thanks to Hrithik sir, we are finally together and will get married in Sri Lanka next month. We are so happy."
Last year, Ayesha Shroff and Disha Patani settled their differences and started to get along with each other. Ayesha believed the MS Dhoni actress would make a good life partner for her son.
Tiger Shroff's sister Krishna Shroff and Disha have always been good friends and are often spotted spending time together. In fact, Krishna has taken the matter into her hands and is looking after all the preparations for Tiger and Disha's much-awaited wedding.
"I always wanted bhai (Tiger) and Disha to culminate their relationship in marriage and now it is finally happening. I will be deciding what bhai will wear and for Disha as well. I am just waiting for their D-Day now," she said.
As Tiger and Disha are celebrating already, we wait for the couple to make their first public appearance as an engaged couple.
(Disclaimer: It's an April Fool story and every bit of information mentioned here is false. Happy April Fools' Day)