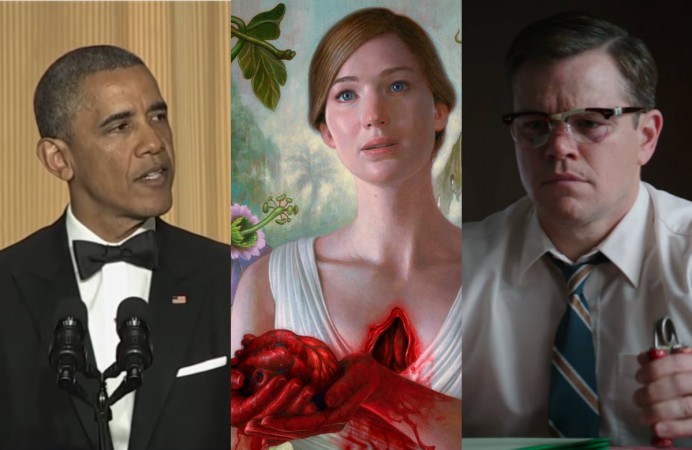 Venice Film Festival kick started another film festival season across the globe on August 30. While the oldest film fest features some remarkable movies, film buffs are also looking forward to Toronto Film Festival as the Canada-based event has more on offer.
Unlike the traditional spread, TIFF has downsized their 42nd edition to a 10-day event this year - September 7 to 18. But this hasn't stopped the curators from packing up some of the best offerings in the world cinema. Some of them are, in fact, worth creating an Oscar buzz.
Also Read: Venice Film Festival 2017: Submissions, dates and red carpet
A variety of genres would be showcased at the event. A handful of war movies, historic biopics, drama, horror, human interest and works of contemporary masters lined up for premiere at the festival.
Movies like Suburbicon, Mother!, Downsizing, Battle of the Sexes and The Shape of Water have already premiered at the Venice and Telluride film fest. But that doesn't affect the excitement over these movies. Numerous critics who did not get an opportunity to attend the screening at Venice are looking forward to watching them at TIFF.
A number of noted film critics have also listed other movies that they are keen on watching at TIFF. These include Bodied, Darkest Hour, Molly's Game, The Disaster Artist, Lady Gaga: Five Foot Two, The Final Year (featuring Barrack Obama's waning months of his last term), The Florida Project, Three Billboards Outside Ebbing, Missouri, I, Tonya, I Love You Daddy and Professor Marston & the Wonder Women to name a few.
Though a few movies get repeated in every list, there are a few off-beat choices that critics feel would spring surprise in the fest. Rolling Stones has listed other movies that they look forward to include BPM (Beats Per Minute), Caniba, Dark River, Eric Clapton: Life in 12 Bars, Grace Jones: Bloodlight and Bami, The Mountain Between Us and Let the Corpses Tan.
Whereas Collider listed Benedict Cumberbatch's The Current War, Lean on Pete, Mary Shelley and The Death of Stalin. Toronto Sun adds Breathe, The Killing of the Scared Deer and Roman J. Israel, Esq, to the list to watch out.
There are a slew of movies focusing on the LGBT theme waiting for the premiere at Torronto. IndieWire recommends Disobedience, My Days of Mercy, Scotty and the Secret History of Hollywood, A Worthy Companion and Occidental.
sebastián lelio's new movie "disobedience" starring rachel mcadams and rachel weisz is based on the 2006 novel by naomi alderman and talks+ pic.twitter.com/mHYmVABXDO

— best of rachel (@mcadamsposts) August 14, 2017