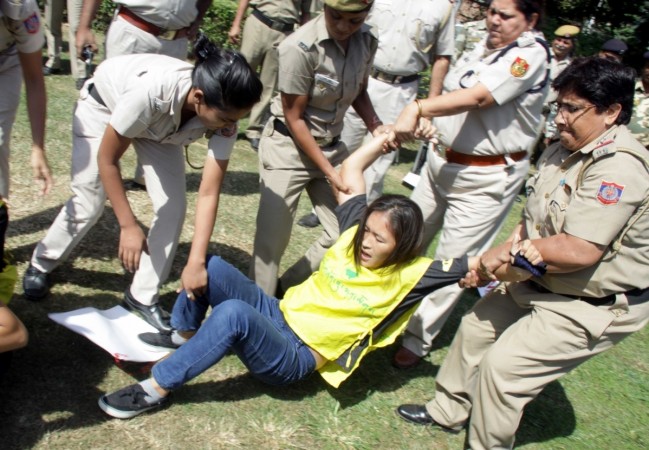 Tibetan activists protested outside the Chinese embassy on Friday in New Delhi ahead of Chinese President Xi Jinping's visit to India for BRICS summit. He will be visiting Goa between Oct 15 and 17 for the summit.
Security was increased at the embassy before the visit. Activists of Tibetan Youth Congress (TYC), who protested against Jinping in Delhi, are also expected to protest in Goa. Security was also beefed up in Goa before his visit.
"As long as the occupation continues, as long as the communist government continues with their hardline stance and policies, ignoring the cries of the Tibetan people, the struggle and resistance of Tibetans will continue," said TYC President Tenzing Jigme in a statement.
The TYC demanded that China stop its "illegal occupation" of Tibet while expressing concern over the "current critical situation".
The protests can be another thorn in Indo-China relations as Prime Minister Narendra Modi is expected to raise issues like China's support to Pakistan, which is being condemned as a terror state by many other countries, India's Nuclear Suppliers Group bid and the China Pakistan Economic Corridor, part of which is through Pakistan Occupied Kashmir.
"Those of living in exile have even greater duty and responsibility and we vow to keep our struggle alive and lend our voices to the voiceless and ensure that everywhere Xi Jinping travels, we will be there to expose the lies of the communist Chinese Government," Jigme said.
Tibetans in India and outside are protesting against decades long Chinese occupation of Tibet, which prompted the Dalai Lama to escape from the region. He currently operates the government while in exile in India, which is another matter of contention between the two countries.
The Tibetan are largely protesting against demolition of Larung Gar in Tibet, one of the largest and most influential centers for the study of Tibetan Buddhism in the world.