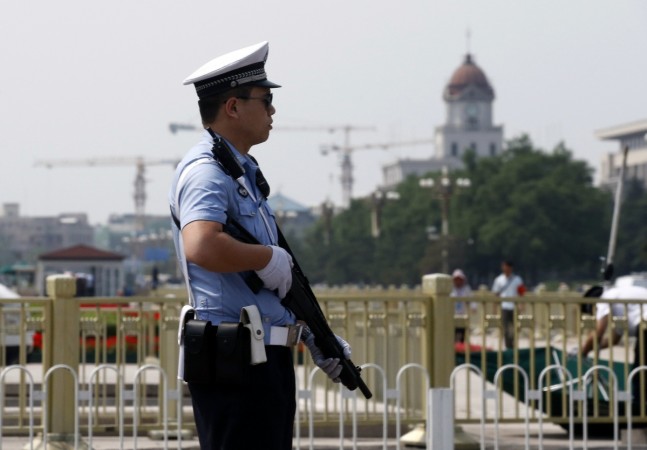 On the 25th anniversary of the Tiananmen Square Massacre, Chinese security personnel have swamped the area amid various other measures administered to clamp-down on any signs of uprising.
Foreign journalists were ushered away from the square as passers-by were frisked and had their documents verified.
This comes after the authorities, in recent weeks, detained dozens of activists to ensure that no untoward situation occurs on the 25th anniversary of the bloody crackdown.
The protesters who stormed the Tiananmen square on 4 June 1989 wanted political reform, but the massacre was ordered after hardliners won a power struggle within the ruling Communist party.
Dubbing the much-talked-about crackdown as "counter-revolutionary", the Chinese government has always denied even discussing on the issue. Talking about the days' events is considered taboo within the country even now.
In Hong Kong, however, thousands are taking part in a Tiananmen remembrance rally, held every year. Activist groups in Taiwan are also marking the anniversary.
In the weeks leading up to the anniversary, the Chinese government has detained lawyers, journalist and activists. Human Rights group Amnesty International has said in a statement that 66 people have so far been detained, questioned, or have gone missing.
Beijing has also taken tighter controls on the internet, including disruption of Google services or searches related to the Tiananmen crackdown.
On Tuesday, China defended the 1989 crackdown, the incident that is thought to have killed thousands.
"The Chinese government long ago reached a conclusion about the political turmoil at the end of the 1980s," foreign ministry spokesman Hong Lei told a daily news briefing.
"In the last three decades and more of reform and opening up, China's enormous achievements in social and economic development have received worldwide attention. The building of democracy and the rule of law have continued to be perfected.
"It can be said that the road to socialism with Chinese characteristics which we follow today accords with China's national condition and the basic interests of the vast majority of China's people, which is the aspiration of all China's people," Hong added.
The exact death toll is not known as the government has never released an official figure, but estimates from experts suggest that the toll might range from several hundred to several thousands.