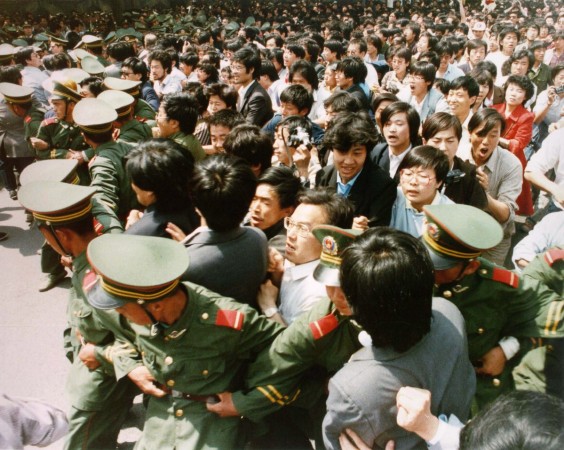 China on Tuesday defended the 1989 crackdown on pro-democracy demonstrators around Beijing's Tiananmen Square - an incident that killed thousands, insisting that the country chose correct path.
Wednesday marks the 25th anniversary of the incident. Dubbing the much-talked-about crackdown as "counter-revolutionary", the Chinese government has always considered even discussions about the day's events as taboo within the country.
"The Chinese government long ago reached a conclusion about the political turmoil at the end of the 1980s," foreign ministry spokesman Hong Lei told a daily news briefing.
"In the last three decades and more of reform and opening up, China's enormous achievements in social and economic development have received worldwide attention. The building of democracy and the rule of law have continued to be perfected.
"It can be said that the road to socialism with Chinese characteristics which we follow today accords with China's national condition and the basic interests of the vast majority of China's people, which is the aspiration of all China's people," Hong added.
Every year, there is commemoration of the incident in Hong Kong - which Chinese began to rule since 1997 - as well as in the self-ruled Taiwan but 4 June 1989, the date on which troops stormed into central Beijing, has never been publicly marked in mainland China.
It is not possible to know the exact death toll as the government has never released the figures. But estimates from experts suggest that the toll might range from several hundred to several thousand.
The Chinese government is seen engaging in activities aimed at clamping down any efforts made by the people to raise anti-China sentiments almost every year, in the run-up to the anniversary date.
Tuesday's comments from the foreign ministry comes after various similar measures by Chinese government such as detentions, increased security in Beijing and tighter controls on the internet, including disruption of Google services.
Asked why Google has been targeted, Hong would not comment, saying that the government "manages the internet in accordance with the law".
This comes after several activists were detained last month for attending a meeting about the protests - an incident that prompted concerns in the international community.
"In China there are only law breakers - there are no so-called dissidents," Hong stressed.
Hong also refused to comment on the reported arrest of Chinese-born Australian artist Guo Jian, a former soldier. The artist was reportedly detained in Beijing over the weekend after he gave an interview to the Financial Times about the crackdown.
"I don't understand the details of the situation, but I want to point out that the relevant departments of the Chinese government consistently act in accordance with the law," he pointed out.
With inputs from Reuters