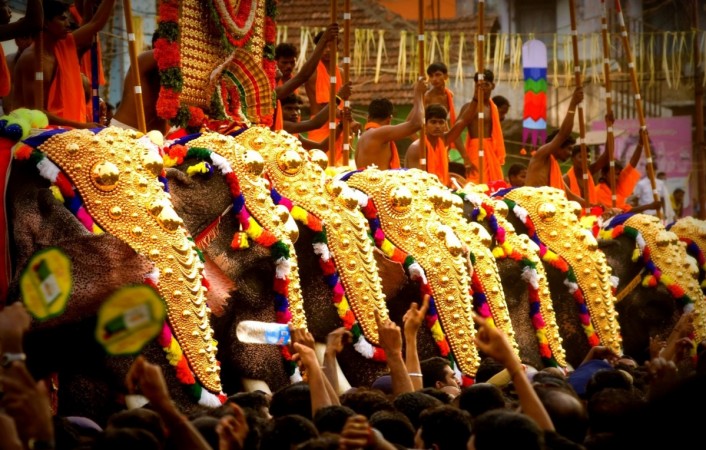 The much-awaited Thrissur Pooram Festival 2016 will be held at the Thekkinkad maidan [ground] around the Vadakkunnathan Temple in Thrissur on Sunday, April 17, this year.
The 36-hour event — biggest temple festival in Kerala — is celebrated every year in the Malayalam month of Medam (April-May), and is known for the participation of caparisoned elephants accompanied with panchari melam (an orchestra involving instruments like chenda, elathalam, kombu and kuzhal) and panchavadyam (orchestra of the five instruments timila, maddalam, ilathalam, idakka and kombu).

Why is Thrissur Pooram celebrated?
Thrissur Pooram is said to be the brainchild of Maharaja of Cochin Raja Rama Varma, also known as Sakthan Thampuran. Arattupuzha pooram used to be the biggest temple festival in Kerala. Thampuran unified 10 temples situated around Vadakumnathan temple in AD 1798 to celebrate a bigger festival. He also divided the participants into two groups — western and eastern. The western group consists of Thiruvambady, Kanimangalam, Laloor, Ayyanthole and Nethilakkavu temples, while the eastern group comprises of Paramekkavu, Karamukku, Chembukavu. Choorakottukavu and Panamukkamppilly.
How is Thrissur Pooram celebrated?
The pooram begins with the ceremonial entrance of Kanimangalam Sastha — effectively, the idol of the presiding deity — through the southern gopuram (entrance) of the temple at 7 a.m., followed by the arrival of Panamukkampilly Sathavu, Chembookavu Karthiayani Devi, Karamukku Karthiyani Devi, Choorakkottukavu Durga Devi, Ayyanthole Karthiayani Devi and Naithalakavu Bhagavathi.
Elephants
The two groups will exhibit 15 decorated elephants each with new caparisons (nettipattam), accoutrements (chamayam), ornamental fans (aalavattom), royal fans (venchamarom), sacred bells and decorative umbrellas as part of the competition between Thiruvambady Sri Krishna Temple and Paramekkavu Bagavathi Temple.
Kudamattam
As part of the competition, colourful and crafted umbrellas will be exhibited atop the 15 elephants on each side by both the groups. This practice is known as Kudamattom, which is the main attraction of the festival.
Fireworks
The fireworks display (vedikettu) is one of the highlights of the festival, as the Thiruvambady and Paramekkavu temples compete to provide the best sound and display for the crowd. After the sample vedikettu ahead of the pooram day, the main fireworks display will be held between 3 a.m. and 6 a.m. the next day at the Swaraj ground in Thrissur.
Timings this year
The Madathil Varavu ceremony — the arrival of the deities — will begin at 11:30 a.m. on Sunday, followed by Elinjithara Melam at 2 p.m., royal dharbhar at 5:30 p.m., and fireworks at 3:00 a.m. on Monday morning. The pooram will end with the farewell ceremony at noon on Monday. During the ceremony, known as Upacharam Cholli Piriyal, the idols of Thiruvambadi and Paramekkavu will be taken back to their respective temples.