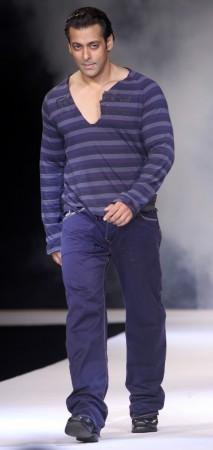 Three technicians including Salman Khan's body double were seriously injured in a mishap on the sets of "Dabangg 2," while shooting in Mehboob studio in Mumbai, on Saturday. Salman himself had a narrow escape.
The injured crew members were immediately rushed to Mumbai's Lilavati Hospital, Salman along with brother Arbaaz and father Salim Khan is believed to have taken the injured in their car to ensure they get proper treatment and recover soon.
According to latest reports, two stunt actors Rupesh Mantri and Sudesh Kumar and a photographer Ajay Thakur were reportedly admitted in "serious" condition, but are out of danger now.
"All 3 technicians are out of danger," Salman's publicist said in a statement, confirming the Saturday's accident.
"There was a mishap while filming an action sequence for Dabangg 2 at Mehboob Studio, Bandra, on Saturday. Three technicians sustained injuries and were taken to Lilavati Hospital by the doctor and ambulance that are on precautionary standby as a safety measure while filming action sequences," the statement said. "Members of the principal cast were not filming during the mishap."
Reportedly, the accident was caused due to an electric blast and Salman was just steps away from the spot of blast. "Everything is fine. It is just that it took us time to reach the hospital because of a traffic jam between Mehboob Studio and Lilavati Hospital," Zee News quoted Salman as telling reporters after the incident.
The General Secretary of Federation of Western India Cine Employees (FWICE), Dinesh Chaturvedi, told a national daily that Salman, who is well-known for his generous personality will bear all the medical expenses of the injured and will also pay the compensation.
He said that the incident happened when a car jump scene was being filmed.
Director Arbaaz Khan's "Dabangg 2" is the sequel of the blockbuster film "Dabangg," in which actor Salman Khan and Sonakshi Sinha are playing lead roles.