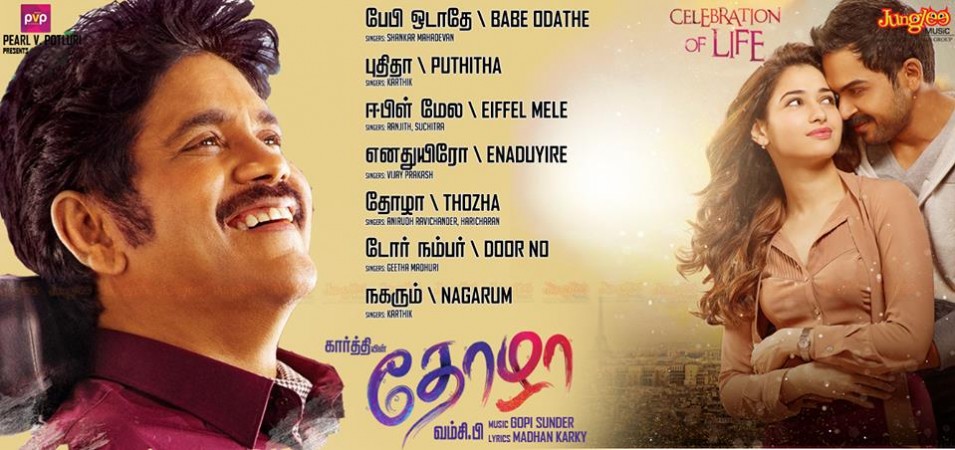 Nagarjuna and Karthi-starrer "Thozha" has ended its second weekend on a good note in Tamil Nadu. With no big releases till the Tamil New Year (April 14), the future of the multilingual movie appears to be bright.
The combined (Telugu+Tamil) collection of "Thozha" in Tamil Nadu stood at Rs. 17.30 crore by the end of its second weekend, as per Andhra Box Office. The distributors' share is said to be Rs. 10.10 crore.
The Tamil flick, released in 325 screens in the state, had collected Rs. 8.15 crore in its three-day first weekend. "Thozha" had opened to highly positive reviews, which boosted its collection at the box office.
The biggest contribution has come from the Chennai region, where "Thozha" has collected Rs. 2.58 crore. After earning Rs. 1.14 crore in its three-day weekend, the movie raked in Rs. 60.51 lakh from 156 shows in its second weekend.
"Thozha" is expected to do well in the coming days as no big movie is hitting the screens. Last week's releases like "Hello Naan Pei Pesuren" and "Darling 2" have not had much impact on Nagarjuna's flick.
Interestingly, the Telugu version is performing a lot better than "Thozha." It has collected Rs. 23.3 crore from Andhra Pradesh and Telangana. It is also strong in the U.S., where it has collected Rs 9.60 crore.
The worldwide collection of the two versions of the flick stands at Rs 56.1 crore by the end of its second weekend.
The movie, which has Tamannaah in the female lead, tells the story of a quadriplegic millionaire and an emotionally-challenged person. While Nagarjuna plays the physically challenged man, Karthi plays his caretaker in "Thozha." It is a remake of the French movie "The Intouchables."
[1 lakh = 100,000 | 1 crore = 10 million | 100 crore = 1 billion]