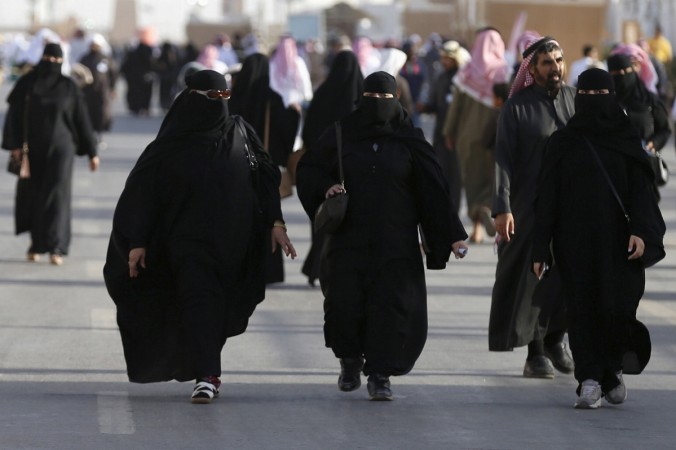 An online petition asking the government to do away with Saudi Arabia's guardianship system was signed by thousands of citizens in an attempt to liberate women who need the permission of a male guardian to travel, marry, exit prison, and in some cases to work or get access to healthcare facilities.
"Women should be treated as a full citizen. This is not only a women's issue, this is also putting pressure on normal men...this is not an issue for women only," activist Aziza Al-Yousef told the Guardian. She has been fighting against this system along with other activists for a decade.
A guardian is a woman's father or husband in case she is married while a widow's guardian would be her son if there are no other men of age in her life.
Yousef and other activists have been organising workshops and performing studies on the validity of such a system since five years, while dismissing the claim that the law follows the teachings of Islam. A report by the Human Rights Watch (HRW) triggered a hashtag #IAmMyOwnGuardian on Twitter to spread awareness on the issue.
Hala Aldosari, a researcher in women's health who wrote the petition and worked on the HRW report, said that around 2,500 women sent telegrams to the office of the Saudi king asking him to abolish the guardianship system. She added that the petition was signed by 14,682 people after it was promoted on Twitter.
The Saudi government had agreed to do away with the system once in 2009 and the second time in 2013 following a review by the UN Human Rights Council. It relaxed the laws making it easier for women to work and also appointing women to the advisory board of the King. Women were allowed to vote and run as candidates in municipal elections. Even then, these laws were limited and did not provide women with their fundamental rights, the newspaper reported.
The Saudi government announced its Vision 2030, an economic plan that called for increased participation of women in the labour market. But employers would still ask women to submit permission from their guardians.
Hamid M Khan, deputy director of The Rule of Law Collaborative at the University of South Carolina, said that the law arises from the Quran that forbids women to marry certain classes of males. However, some Islamic scholars have misinterpreted it and stated that a male guardian should accompany a woman when she is with any man not included in that list.
"This notion of guardianship is not necessarily embedded in the Qur'an but it's based upon the jurist view that there are certain patriarchal understandings about the necessity of guarding a woman from these men," Khan told the Guardian.
Yousef said that the petition was also signed by some Saudi clerics who believe that the system is not based on Islamic law. Several clerics came out in support of the petition after Saudi women demanded the right to drive, Aldosari said.
"They all declared that this is not religion, this is all government rules and it should be changed," Yousef said.