Physical distancing goes for a toss as thousands of migrant labourers on Monday, May 18 gathered at Ramlila Ground for registering themselves with the state government for the three Shramik special trains,
Amid the coronavirus lockdown 4.0, the three Shramik trains will leave for different parts of Uttar Pradesh later today, Monday.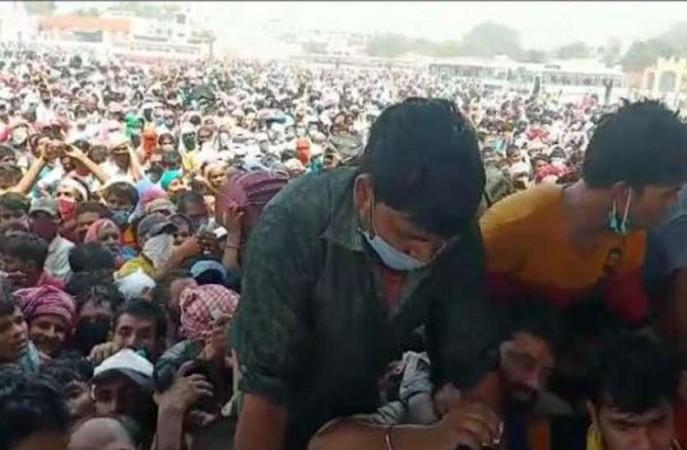 According to the video, that surfaced stirring havoc on social media, shows a huge crowd of migrant labourers ditching the physical distancing norm and thronging Ramlila Maidan to get themselves registered. This incident occurred on the day when Lockdown 4.0 began which will be in effect till May 31.
Ramlila Maidan, the official registration centre for migrant workers
As per reports, the Ghaziabad district administration had asked people to come to Ramlila Maidan to complete the formalities like screening and registration could be performed before they ahead to their native states. The Ramlila Maidan was the official registration centre for migrant workers mainly from Jharkhand and Bihar.
The migrants were asked to come along with their official documents like the Aadhaar card, ration card and others. Previously, the UP govt has sealed its borders and has ordered that no migrant workers travelling on foot to truck will be allowed to enter the state.
The Shramik trains have been operating successfully over the weeks, helping migrant workers reach their native states.
Covid-19 tally touches 96,169 in India
With the sharpest spike of 5,242 new cases in 24 hours, India's total case count of coronavirus jumped to 96,169, the Union Health Ministry data revealed on Monday. According to the Health Ministry, of the total, 56,316 are active cases while at least 36,823 people have been cured of the disease.
At least 157 deaths were reported in the last 24 hours, taking the total fatality count to 3,029. In Maharashtra, the Covid-19 cases climbed to 33,053, followed by Gujarat which has 11,379 cases and Tamil Nadu 11,224 cases so far.