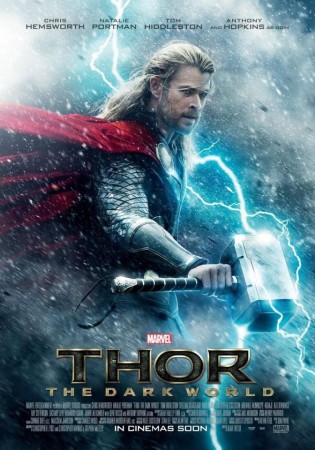 The sequel to "Thor," the Asgardian God, who is also the red caped superhero released in India on Friday and has lapped up warm ratings from critics.
Chris Hemsworth returns as the blonde deity and faces an evil race of elves, who are in a mission to destroy the entirety. The sequel marks a strong presence of Thor's notorious brother Loki played by Tom Hiddleston with Natalie Portman, as Thor's lady love.
While the film dwells on another Asagardian crisis, which if not overcome could destroy the nine realms, an interesting set of action sequences loaded with heavy CGI effects steals the show. However, the film fails to improvise on a strategic new game and plays around offering a mediocre show according to several critics.
Here is look at what critics had to say:
Rajeev Masand, IBN Live (2/5):
"Everything moves at a frenetic pace in this film, giving you barely any chance to enjoy the action, to soak in a clever one-liner, or to mourn the death of a loved character. The special effects are pretty impressive, but Asgard still looks like a gaudy Vegas attraction. What's surprising about the film is how spectacularly uninvolving it is. The previous film had a nice fish-out-of-water charm, but this one's trying too hard to achieve an epic feel."
Tushar Joshi, DNA (3/5)
"There is no denying the fact that Hemsworth makes a superb Thor. The best scenes are of course the ones between Loki and Thor. The special effects are remarkable and attention to detail has been paid for the casts ensemble, make up and set decoration.
"Predictability is the films biggest enemy. Even before we hit the middle, there is a sense of where the story is going and how the end will be. Those expecting big twists and turns will be in for a disappointment.
"Thor rises to the occasion, he flies, but doesn't quite soar! Fans won't be disappointed though."
Vinayak Chakraborty , India Today ( 3 /5)
"The Dark World belongs to old-school superhero filmmaking that focussed solely on the fun factor rather than also trying to give its specific world a deeper context as, say, The Dark Knight flicks did for Batman. Still, the film remains enjoyable. It regales with a resounding good-versus-evil thwack, imagining the Thor myth with stunning visuals and a grand final.
"Chris Hemsworth as Thor gives his action deity an impressive hunky turn once again but Tom Hiddleston's Loki robs all thunder from the entire cast.
"The focus here is not so much about narrating an original adventure as it is about how engagingly the film narrates a predictable storyline. The climax as well as its build-up make for all-out fun. Bring on Thor 3, but serve it with a few surprise spins."
Raja Sen, Rediff (3.5/ 5)
"Thank all nine heavens, then, for Thor, that most old-school of heroes, for staying true to the technicolour spirit and giving us a movie that refuses to take itself too seriously. Because despite Sir Anthony Hopkins strutting around as gruff as can be Stan Lee ain't Shakespeare, and Thor as a character works best when he's being handled cheekily.
"And so while Thor is plagued with the weight of silly science and ponderous, unnecessary exposition, there's a goofiness to the proceedings that makes it a brisk watch."
Reagan Gavin Rasquinha, Times of India (4/5):
"The effects are amazing but the best moments are when Thor and Loki share screen space. Loki has the power to make you empathize with him, but is that just another one of his deceptive tricks? Thor, Loki and whole Norse mythos is as complex as any school of mythology that was formed eons ago in days of old, when magic filled the air. This movie is also about sibling rivalry as well as a long-distance love story with an intergalactic twist. Don't miss this one."